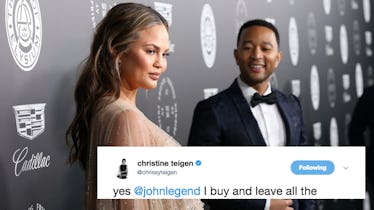 Chrissy Teigen Called John Legend Out For The Funniest Thing & Honestly, Same
Phillip Faraone/Getty Images Entertainment/Getty Images, Twitter
Is there a more beloved couple than Chrissy Teigen and John Legend? Somehow, the multi-award-winning music artist and literal supermodel are also two of the most down to earth, grounded people in Hollywood. Chrissy Teigen's tweets about John Legend stealing phone chargers not only makes me feel like stars are "just like us," but also, maybe I could be just like them! Thanks for the dreams, Chrissy!
As you guys know, our main girl loves to post personal and hilarious tidbits on her social media. She's notorious for her goofy tweets, honest captions, and relatable content. Most recently, she laid into her sweet hubby for his super annoying habit of picking up their shared phone chargers and disappearing with them. It sounds like Legend's big move is to take Teigen's battery juice and leave for work. This leaves her alone to fend for her phone battery life by herself.
On Feb. 7, she called Legend out on Twitter. She wrote the sarcastic message:
yes @johnlegend I buy and leave all the phone chargers all around the house just so you can unplug them all and take them to work with you. all of them! I love that you love chargers! they're all for you! I just love you that's why I buy them. because you love them!
Nothing like having a conversation about your "private life" for millions of followers to see.
Obviously, she didn't stop there. To combat this annoying behavior, Teigen found a phone charger she's sure Legend won't pocket and take to work with him. She shared a picture of a very specific unicorn phone charger, and wrote, "I'm buying this. @johnlegend take this one u thief."
I mean, the woman's got moves.
And this isn't pregnancy brain that has her all riled up. This is actually Teigen's genuine MO. She's also been incredibly vocal about her second pregnancy and how it's dramatically affecting her day-to-day life.
In her true open-book form, Teigen called out for the support of mothers everywhere, explaining her unborn baby boy (!!!) is "sucking the life" from her. She also lovingly referred to babies as "little monsters" who just want their moms dead. LOL.
The public learned Teigen and Legend are having a little gentleman on the night of the 2018 Grammy Awards. Teigen and her boo-thing attended the epic show wearing a gorgeous silver gown and spiffy suit, respectively. Teigen shared a few pictures from the night, but one in particular was special.
She posted an image of herself smiling on the red carpet with the caption, "Mama and her baby boy."
I'm living for it.
Teigen and Legend's little daughter, Luna, is surely primed to be an amazing older sister. Based on the way her mom runs the freaking world, we're sure she will be a great protector, advocate, and no-bullsh*t big sis. But, for now, Legend says she has "no idea what's going on."
The musician told E! News,
She has no idea, she has no idea what's going on. We know there's a baby in there and she can say 'baby' but I don't really know if she knows what it means for her mother to be carrying another child and for that child to be her little sibling. I don't know if she's ready for that yet.
Don't worry, John. There's still time. For now, just help your pregnant wife out and stop stealing her phone chargers! One day in the not-so-distant future, she's going to have to call you to tell you she's in labor. Then, you call us.
Check out the entire Gen Why series and other videos on Facebook and the Bustle app across Apple TV, Roku, and Amazon Fire TV.