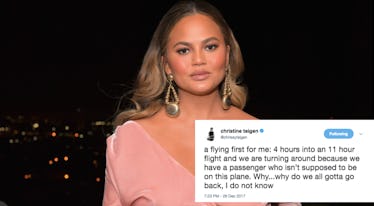 Chrissy Teigen Got Stuck On A Plane That Turned Around Mid-Flight & Live-Tweeted It
Charley Gallay/Getty Images Entertainment/Twitter
Chrissy Teigen and John Legend had a bit of a day trying to get to Tokyo for New Year's Eve. They boarded their plane on Dec. 26 thinking their 11-hour flight to Tokyo would go off without a hitch, but four hours into the flight, they had to turn around and go back to L.A. because there was a passenger on the plane who didn't actually have a ticket for that flight. And of course, Chrissy Teigen live-tweeted the entire experience. Chrissy Teigen's tweets about her Tokyo flight are peak Teigen Tweets™, and it's clear the universe wanted one last Teigen live-tweet experience before 2017 was (mercifully) up.
Teigen started the thread with a tweet that said, "a flying first for me: 4 hours into an 11 hour flight and we are turning around because we have a passenger who isn't supposed to be on this plane. Why...why do we all gotta go back, I do not know." The entire thread is hilarious, but still had some kind of serious moments. It's apparently part of airline procedure to turn around when a passenger is discovered to be on the wrong flight. And according to Teigen's tweets, the passenger (whom she never learned the identity of) had a ticket for a United Airlines flight, not All Nippon Airways (ANA). So, as Teigen pointed out, it looks like the machines that check your boarding passes right before you board your flight don't actually do anything other than make some noises. Great! Awesome! Cool!
Once the plane got back to LAX, according to Teigen, the police questioned some people about the passenger once everyone got off the plane. Chrissy Teigen being Chrissy Teigen decided to be a sleuth herself and try to get to the bottom of this mystery. Once they finally got off the plane, they learned the plane had been parked (parked? Is that what we call a plane once it has landed? I honestly don't know...), all of the passengers were led through a private terminal, and Teigen and Legend were taken to a lounge to wait for their new flight.
This is when Teigen made her government conspiracies (and also watched Real Housewives and ate some ramen).
And of course, she posted about it on Snapchat, too, for she is a giving queen.
She obviously couldn't let all this time go by without trolling the airlines.
Some lucky passenger also got to post the greatest first tweet of all time.
But don't worry about the Twitter royal family! After spending some time in one of the LAX lounges, they finally got on a new plane and jetted off to Tokyo. It seems like that flight was trying a little too hard to provide a happy experience to its passengers, though, as the flight featured a stuffed Yoda and was blasting Star Wars music.
Teigen, naturally, documented that as well.
May the force be with you, Chrissy.
Apparently, before all of this went down, Teigen and Legend were enjoying their time just watching Gran Torino. Teigen tweeted, "Lmao after all this I will have spent 8 hours on a flight to nowhere. Like we were all just havin a great time up here flyin in the sky watching gran torino time to go home now." John Legend unfortunately didn't tweet anything about this experience. I'm sure he trusted his wife had things handled on that front. But one thing's for sure is that after this disaster of an experience, Teigen and Legend probably don't want to see LAX ever again. Will this passenger mystery ever be solved?! Find out next week on Days Of Our Lives.