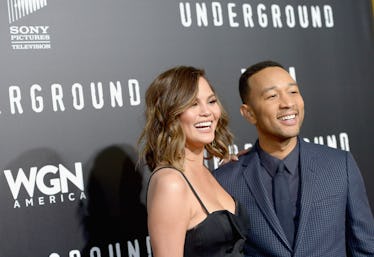 Chrissy Teigen's Tweets About John Legend Playing Jesus Will Make You Laugh So Hard
Charley Gallay/Getty Images Entertainment/Getty Images
On Dec. 19, we got the news John Legend will once again be living up to his last name by playing the role of Jesus in a live musical production of Jesus Christ Superstar to air this spring. Can I get an A-men? I mean, what a cool casting decision! Not only is the Grammy winner soulful and angelic, but he's also got incredible range — all of which adds up to the fact that he was basically born to play this part. Of course, that didn't stop one person from hilariously mocking him about it. Chrissy Teigen's tweets about John Legend playing Jesus are the Christmas gifts I didn't even know I wanted.
The currently-preggers brunette has proved time and again that she's pretty much the queen of the perfect tweet. Whether it's her wry observations or crowd-sourcing advice (or bananas) from her followers, Teigen's posts are always so relatable and totally on point. And while we have no doubt the 32-year-old is probs super-stoked her husband landed the holy grail of roles, she didn't waste any time throwing a little shade his way on social media.
First, check out what Legend tweeted:
Now take a look at what Teigen shot back shortly afterwards:
Brilliant! And Teigen's fans couldn't wait to take the challenge and run with it, offering up several solutions to the "problem" of fitting the hit R&B singer in that manger.
"Very carefully," wrote one tweeter because hahaha #jokes:
Another thought this was an issue best left to the special events team:
And a bunch of Teigen's followers all stumbled upon the same, seemingly perfect solution — subbing in Legend's daughter.
"Luna can be his baby double," wrote one.
"They can use Luna," added another.
And then there was this smart observation from a third:
They really are. So can we please, oh please, oh please make this a reality? After all, using Luna makes perfect sense since girlfriend is already almost 2 years old years old and still doesn't have her SAG card... so hello, two-birds-one-stone!
It's all seemed like a no-brainer until Legend went and jumped in to share his own strategic plan on Twitter:
I have to admit, he does make a good point. Remember this sweet little guy who went viral for his resemblance to the star back in July?
Sorry, Luna, but this kid kinda looks more like your dad than you do. Guess that SAG card will just have to wait.
In the meantime, I really hope Teigen keeps making fun of John on Twitter about playing our lord and savior because there is really nothing more amazing than sitting back and watching these two fake-spar on social.
For example, remember that time she called him out for bragging about being "very good" at singing the national anthem?
Or the time she made fun of him when the Golden Globes misspelled his name?
And who could forget THIS classic:
Don't even try and tell me Teigen isn't a complete mastermind.
Jesus Christ Superstar Live will bow on Easter Sunday 2018 and will be the fifth live musical adaptation NBC has aired. With only two roles currently cast — the Peacock network announced back in May that rocker Alice Cooper will play King Herod — there are still several up for grabs. Which means there's plenty of time for Teigen to land the part of Mary Magdalene. And since the couple's baby boy is due sometime in 2018, maybe HE could play baby Jesus.
So many options. Tune in on April 1 to find out how it all goes down!