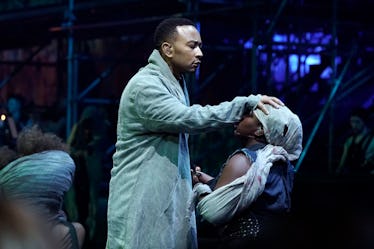 John Legend Was Crucified In 'Jesus Christ Superstar Live' & Twitter Lost It
With the talent and the story and the rad rock music that go along with a performance like we saw from Jesus Christ Superstar on Easter 2018, it's almost easy to forget that, uh, we kind of know how this story ends. And it's definitely, definitely doesn't end well for Jesus. Which is probably why all these tweets about John Legend on the cross in Jesus Christ Superstar Live make it clear that everyone is absolutely losing it.
The live performance of the classic rock opera aired on Easter Sunday, aka the anniversary of the day on which Christ is said to have risen from the grave three(ish) days after being crucified, but I can't blame anyone if they chose to conveniently forget that John Legend and his golden voice had a one-way ticket to a gruesome execution at the end of this play. He was just so captivating on the stage that I, at least, didn't want to acknowledge that this wasn't going to end happily for his character.
We even knew that the show was going to go there — the traditional staging of the show ends with Jesus on the cross, and we even had confirmation from a tweet Chrissy Teigen posted from a rehearsal for the show that Jesus was going to "fly." But none of that made it any easier when we saw the final ending of the show. It was pretty brutal.
Twitter was having some major, major feels.
It probably didn't help the levels of emotional drama that John Legend, who played Jesus, was absolutely amazing in the role. Listen, I know Legend is talented, but I always thought of him as a musician and not an actor. Well, tonight he proved he can do it all. When he showed up on the cross in the final scene, I got chills. Even Legend's legendarily snarky wife Chrissy Teigen, who was live-tweeting the show, was full radio silence for this scene. I can only assume that it's because she was as blown away by this performance as I was. I mean, damn.
Legend killed it on the singing, he killed it on the acting, and he just plain killed it (up until he was killed). In fact, the entire cast and production was downright amazing. Beyond the sheer talent that Legend brought to the main role, Sara Bareilles, who played Mary Magdalene, might have singlehandedly brought the solo song "I Don't Know How To Love Him" back into all of our iTunes rotation. Brandon Victor Dixon was bringing all his (and our) feels right to the surface playing the traitor Judas Iscariot. And I haven't even talked about the fabulously over-the-top dystopian villain costuming.
But even though we know how this story ends — it got its original finale more than 2000 years ago, after all — this particular interpretation isn't over when the show itself is done. If you couldn't get enough of John Legend's beautiful voice singing rock opera, there's still the soundtrack available to fulfill your Jesus Christ Superstar needs. NBC partnered with Masterworks Broadway to create an official soundtrack for the live performance, which will be available for fans to buy. The catch? No matter how much you loved the live show, you'll have to wait a bit to get your hands on the soundtrack. It'll be released digitally on April 6 (not too bad), but if you want a physical copy on CD, you'll have to wait a few more weeks, until April 20.
And me? Oh, I'll just be handing out here, waiting until this becomes available on DVD. Gruesome / emotionally moving finale or no, that was an amazing performance. Definitely worth tweeting about, I'd say.