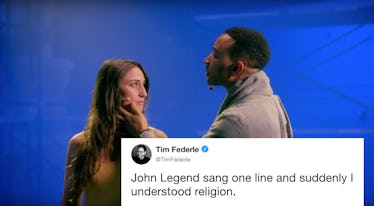 These Tweets About 'Jesus Christ Superstar Live' Will Let You Relive It Over & Over Again
NBC
All hail out lord and savior, John Legend! That's right — NBC's biblical new live musical event Jesus Christ Superstar Live in Concert is finally here, and of course, that means viewers everywhere are sounding off about the star-studded new staging on social media. Honestly, half the fun of these live musicals is following along with all the jokes online, so be sure to check out the best tweets about Jesus Christ Superstar Live below, whether you watched the whole performance or not.
As always seems to happen with these live musical specials, things got off to a wild start right away when Jesus Christ Superstar Live in Concert kicked things off on Easter Sunday on NBC. The new staging brought together a ton of A-list talent to reimagine Andrew Lloyd Weber's iconic 1971 rock opera Jesus Christ Superstar. The show starred nearly-EGOTed crooner John Legend as Jesus Christ, pop singer and Broadway composer Sara Bareilles as Mary Magdalene, shock rocker Alice Cooper as King Herod, and Hamilton star Brandon Victor Dixon as Judas Iscariot.
Unlike many of NBC's past live musical productions, Jesus Christ Superstar Live in Concert was staged like a concert in front of a live audience at the Marcy Avenue Armory in Williamsburg, Brooklyn.
The show started with a bang, as various guitarists, violinists, and dancers flooded the stage. The live audience really went wild when John Legend's Jesus Christ first appeared, emerging from a wall of light.
Check out all of the best, most enlightening, and funniest reactions to Jesus Christ Superstar Live in Concert on Twitter below.
The next big show-stealing moment came when in the form of a futuristic fashion choice. As the villains of the musical, Norm Lewis as Caiaphas led the Sanhedrin out towards the start of the show, and immediately everyone watching was taken by their geometric coats and cutting edge style.
And of course, everyone watching was totally taken by Sara Bareilles' big performance as Mary Magdalene, when "I Don't Know How To Love Him." The Waitress composer and star proved her live musical talent yet again, and the audience was clearly blown away:
Then came Brandon Victor Dixon's time to shine. The Broadway veteran stunned the audience in the breakout role of Jesus Christ Superstar, Judas Iscariot. Dixon is probably best known currently as one of the actors who portrayed Aaron Burr in Hamilton, and interestingly enough, Judas is a pretty similar role to that of Burr. Dixon closed out the first act with Judas' big betrayal song "Damned for All Time / Blood Money," and toally wowed everyone watching:
And who could forget Alice Cooper? The crowd erupted in huge applause when the legendary shock rocker danced onto the stage as King Herod in the second act of the show. Although King Herod only gets one song — aptly title "King Herod's Song" — Cooper totally nailed the teasing, jaunty prog-rock song, in which the king of Jerusalem condemns Jesus to death after he refuses to perform a miracle to confirm his connection to God.
Alice Cooper dressed in full circus ringleader glitz for the number, complete with a horde of Vegas showgirls to really complete the fantasy. Of course, viewers were living for the flashy number:
And how can I possibly write about all the best tweets from a Jesus Christ Superstar live concert that stars John Legend without pointing out all of the brilliant jokes and insights that Legend's social media-savvy wife Chrissy Teigen posted on Twitter throughout the show. Check out all of Chrissy Teigen's best Jesus Christ Superstar Live tweets right here.