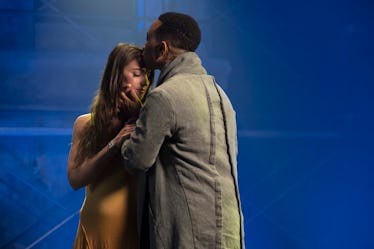 Here's How To Stream 'Jesus Christ Superstar Live,' So You Don't Miss A Thing
Virginia Sherwood/NBC
NBC is staging their highly-anticipated production Jesus Chris Superstar Live on Easter Sunday — Sunday, April 1 at 8 p.m. The beloved Andrew Lloyd Webber and Tim Rice rock opera will be broadcast live for one night only (yikes, that's a lot of pressure) from Williamsburg, Brooklyn's Marcy Armory and stars John Legend, Sara Bareilles, and Alice Cooper. Can't get to a TV? If you're wondering how to stream Jesus Christ Superstar Live, it should be available to those with a cable subscription via NBC's live stream. Viewers with a Hulu Live TV subscription will likely be able to catch the telecast as well.
The network is no stranger to the live musical spectacular event. It kicked off the recent and growing trend with 2013's Sound of Music Live!, casting country superstar Carrie Underwood in the iconic role as Maria. The year 2014 saw Peter Pan Live!, 2015 was The Wiz Live!, and then there was 2016's Hairspray Live! News of a live Bye Bye Birdie musical event starring Jennifer Lopez has been discussed since 2016, but the production has been postponed until 2019 due to Lopez's busy schedule. I mean, she's J. Lo — so I get it. A replacement musical for their December 2018 slate has not been decided yet, though we're thankful to have April's Jesus Chris Superstar Live extravaganza to hold us over should audiences go another year without the new NBC seasonal tradition.
So, why Jesus Christ Superstar as their next live pick? And, why now? NBC Chairman Bob Greenblatt explained the decision at Feb. 26's PaleyLive panel:
I grew up listening to this music and I actually worked on a production of it when I was in high school. It's always just been part of the musical theater world, and the rock music world. It was sort of a rock opera before it was a theater production. We just thought, we've been doing these Christmas musicals primarily and we thought, what about looking at another time of the year? And someone got the idea to do Jesus Christ Superstar on Easter, which I just think, I don't know how you get better than that, scheduling-wise.
Jesus Christ Superstar tells the story of the last week of Jesus' life from the perspective of Judas. The show made its Broadway debut in 1971, but it was originally released as a concept album — "an experiment with rock opera," as Andrew Lloyd Webber describes. "This is absolutely one of the most classic shows of all time. Talk about timeless subject matter. It kind of has this beautiful innocence and raw genius," Sara Bareilles said in a behind-the-scenes interview.
"I actually think it's more relevant now, just in terms of something with the best of intentions to heal, to do good, to spread a message of love, to spread a message of life is snuffed out by opposing forces because he's misunderstood by the powers that be. And I think that is incredibly timely," executive producer Neil Moran noted in an interview with Showbiz Junkies.
As terrifying as live TV is, I'm pretty confident talent like Legend, Bareilles, Alice Cooper, and Broadway pros such as Brandon Victor Dixon and Norm Lewis can handle it. I can barely sing a joking karaoke rendition of Britney Spears in front of my closest friends, but these people perform live like it's their job. Because it is. "That's what we do. We perform live all the time," Legend mentioned on Today. "We're gonna make it like it's a rock concert to some extent. It's gonna be a show."
Jesus Chris Superstar Live airs Sunday, April 1 at 8 p.m on NBC. Personally, I'll be preserving my voice until then so I can sing along from the privacy of my own home.