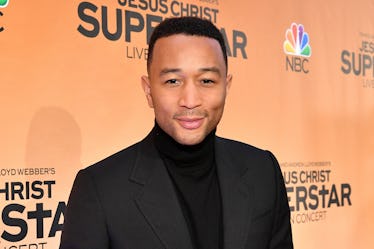 John Legend Is Hitting The Stage Soon For 'Jesus Christ Superstar Live,' So Get Ready
Dia Dipasupil/Getty Images Entertainment/Getty Images
It's time to get pumped for NBC's next live extravaganza. If you're anything like me and you've dreamed of a musical starring a brilliant pair of performers like John Legend and Sara Bareilles, you're seriously in luck. The acclaimed singers are headlining the network's latest musical spectacular, so brush up on your Andrew Lloyd Webber now. When does Jesus Christ Superstar Live premiere? The live theatrical event airs on Easter Sunday — Sunday, April 1.
NBC kicked off their live musical broadcasts with 2013's Sound of Music starring Carrie Underwood. Since then, they've performed telecasts of favorites like Peter Pan, The Wiz, and Hairspray. This time around, it's all about a Broadway classic from the 1970s — Tim Rice and Andrew Lloyd Webber's rock opera, Jesus Christ Superstar. If you're not familiar with the beloved show, it's the story of the final days of Jesus' life as told through Judas. It made its debut on the Great White Way back in 1971 and was nominated for five Tony Awards. The show has been revived three times since its illustrious premiere. Now, it's pop superstar John Legend's turn to take on the role of Jesus. If there's anyone who can sing their ridiculously talented heart out live in front of all of America, it's probably this guy.
"I've had to make everything else my side project, honestly, because I've been here every day for six to eight hours, and we've been focused on it," Legend, who is also a producer, revealed to POPSUGAR on prepping for the daunting experience. "It's been an immersion into the material, just learning all the lyrics and musical cues. And then just starting to inhabit the character and let it become a part of me. It's been fun, but it's taken over my brain. So, even when I'm at home, I'm humming the songs and rehearsing my lines in my head."
The Grammy winner will appear alongside Sara Bareilles as Mary Magdalene, a singer-songwriter who's no stranger to the Broadway life. Sara scored the musical adaptation of the film Waitress and even played the lead in the show for two brief stints.
"It's such an ancient story, but I think the genius of the original was that it brought the story to the current time that it was written," Legend explained on Today about its cultural influence. "And I think we're gonna make it feel like it's timeless, but also current."
Casting pop superstars like Legend and Bareilles was integral to the show's modern vision. Alice Cooper ("we're not worthy!") will also star as King Herod, which should inject even more of a rock and roll vibe to the experience.
"We want to deliver the story of Jesus Christ Superstar but also the immersive experience of being at a concert so that you the viewer at home watching on his or her TV… feels like they are immersed in this live event concert," one of the telecast's executive producers, Marc Platt, explained to Talk Nerdy With Us. The production will be staged at the Marcy Armory in Williamsburg, Brooklyn.
In addition to Legend, Cooper, and Bareilles, Jesus Christ Superstar Live in Concert! has an impressive cast and crew behind it. Brandon Victor Dixon, who's wowed in shows like Hedwig and the Angry Inch, Shuffle Along, and Hamilton, will play Judas. Prolific Broadway vets Norm Lewis and Ben Daniels are also a part of the esteemed group of performers involved. David Leveaux, who has five Tony nominations under his belt, is set to direct.
Live TV is always an exciting adventure and you never know what will happen, but this team is stacked with some of the industry's most experienced pros. Break a leg, guys. We'll be watching and singing along with tone-deaf enthusiasm. Jesus Christ Superstar Live airs Sunday, April 1 at 8 p.m. EST on NBC.