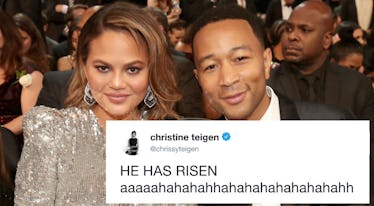 Chrissy Teigen Is Live Tweeting 'Jesus Christ Superstar Live' & You'll Obviously LOL
Christopher Polk/Getty Images
John Legend may be Jesus Christ on TV this Easter, but over on Twitter, our true lord and savior is, as always, Chrissy Teigen. While her husband was delivering the performance of a lifetime on Jesus Christ Superstar Live in Concert, Teigen was serving up all the jokes and behind-the-scenes scoop about the musical special. Seriously, if you weren't following Chrissy Teigen's tweets about Jesus Christ Superstar Live on Sunday night, then you were only getting half of the full experience.
Before Jesus Christ Superstar Live in Concert even began airing on Easter Sunday night on NBC, most fans were already pulling up Chrissy Teigen's Twitter account to keep an eye on what the supermodel and social media personality was going to say about the live special. After all, Teigen is famous for her epic live-tweeting, and she was definitely going to be watching her husband play Jesus Christ.
As expected, Chrissy Teigen delivered all the best tweets of the night. She poked fun at her husband, freaked out over some of the best musical numbers, and posted some hilarious jokes about the production all through the night. Get the rundown of all the amazing things that Chrissy Teigen tweeted throughout Jesus Christ Superstar Live in Concert right here:
Before the big show even got started, Chrissy Teigen was getting pumped. She shared a video of her family sitting down to watch the show, while Kanye West's "Jesus Walks" played and a Christly candle with John Legend's face on it sat on the kitchen counter.
And obviously, when Jesus Christ Superstar Live in Concert began, Chrissy was more than ready:
She may not have been totally following along with the plot, but that didn't stop her from piecing it together:
Chrissy Teigen also had some parenting jokes. At the point when Jesus angrily kicked the thieves out of his temple — the actors were rolling around in glitter in the show — she tweeted that the scene reminded her of some moments she has shared with her daughter Luna. She followed that up with the revelation that she may have brought Luna to the wrong day of rehearsals...
Like the rest of the viewers, Chrissy totally fangirled over Sara Bareilles when she saing "I Don't Know How To Love Him."
Chrissy also jumped in on some light clowning of the show's wardrobe, pointing out the abundance of male chest that took center stage during the performance.
But she put the jokes aside for a second to praise her husband for nailing his big song, "Gethsemane (I Only Wanted to Say)." The song is Jesus' big number in Jesus Christ Superstar, in which he hits some pretty impressive high notes as he accepts his fate to be crucified. Teigen revealed that her husband was nervous about the song, but of course he killed the live performance:
Jesus Christ Superstar Live in Concert is the fifth live musical special that NBC has put on in the last few years, following 2016's Hairspray Live!. The performance was held at the Marcy Avenue Armory in Williamsburg, Brooklyn, and starred John Legend as Jesus Christ, Sara Bareilles as Mary Magdalene, Alice Cooper as King Herod, and Brandon Victor Dixon as Judas Iscariot.
Of course, Jesus Christ Superstar does not include any real comedic moments, so it was awesome to have Chrissy Teigen on hand to deliver the jokes online while the biblical musical was happening on television. It was also super cool to watch Teigen fangirl out over John Legend, Sara Bareilles, and the rest of the cast and production in general along with the rest of us!