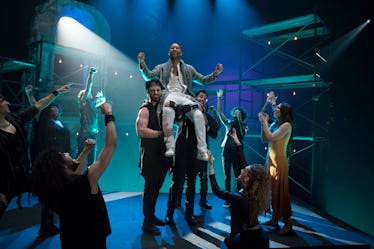 The 'Jesus Christ Superstar Live' Soundtrack Is Coming & It's Going To Rock
Virginia Sherwood/NBC
As someone who isn't very familiar with the musical Jesus Christ Superstar, I'm pretty excited for the opportunity to hear its songs with the help of John Legend and Sara Bareilles' voices. The NBC live musical event premieres on Sunday, April 1, at 8 p.m. ET, and it promises to be an enjoyable way to celebrate Easter and add to the network's tradition of live musical performances. If you're wondering where to download the Jesus Christ Superstar Live soundtrack, you're in luck. The soundtrack of the live concert cast's performances is due out on iTunes by April 6, so it's time to set up your album pre-orders now.
Starring Legend as Jesus, Bareilles as Mary Magdalene, and Alice Cooper as King Herod, the live concert includes the songs first performed on composers Tim Rice and Andrew Lloyd Webber's 1970 rock opera concept album. The album turned into a 1971 Broadway musical that tells the story of the last seven days of Jesus Christ's life, detailing the Last Supper and the arrest and Crucifixion of Jesus. There are plenty of cast recordings of the show available on iTunes, including that of the original Broadway cast and the 1973 motion picture soundtrack. but the live element of this upcoming soundtrack helps it stick out from those predecessors.
In a first look video of the televised concert, Bareilles shared what makes the show so special and fitting for today:
This is absolutely one of the most classic shows of all time. Talk about timeless subject matter. It kind of has all this beautiful innocence and raw genius. Nobody writes a melody like Sir Andrew Lloyd Webber - he's one of a kind.
The entirely sung-through show also focuses on Judas Iscariot, the disciple who betrayed Jesus before his arrest. Tony nominee Brandon Victor Dixon appears as Judas, performing songs like "Superstar" and "Heaven on Their Minds."
In the weeks leading up to the live performance, NBC has released teaser footage of the main stars' solos, including Legend's powerful delivery of "Gethsemane." The song follows Jesus's desperate prayers to God following the Last Supper, when he knows that his end is near. Legend hasn't starred in a musical during his professional career, but he previously produced the 2017 Broadway play Jitney, which won a Tony for Best Revival of a Play.
Reflecting on the '70s folk tunes that were popular at the time of the show's premiere, Bareilles will perform solos like "Everything's Alright" and "I Don't Know How to Love Him," which has been released as a single from multiple women over the years. The singer-songwriter has come fresh off a stint of playing the title role in the Broadway musical Waitress, which she also composed herself.
Promoting the event in a TODAY Show appearance, Legend and Bareilles discussed performing in front of a live audience at Brooklyn's Marcy Armory. When Legend commented that an audience being present would help the performances overall, Bareilles said:
The nice thing about this show is that it's a rock opera, so it's so primed for that, for audiences to [see it] the way it was meant to be.
Legend is also a producer for the concert, saying on TODAY:
It's such an ancient story, but I think the genius of the original was that it kind of brought the story to the current time it was written, and I think we're going to try to make it feel like it's timeless but also current.
On iTunes, the entire album of Jesus Christ Superstar Live is available for pre-order at $13.99. It is unclear if songs will be available for individual downloading after the live show airs.
Jesus Christ Superstar Live in Concert airs on Sunday, April 1, at 8 p.m. ET on NBC.