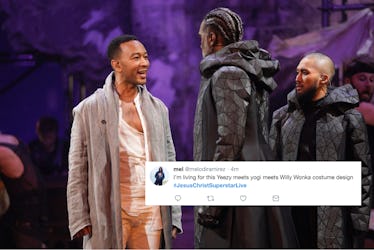 The 'Jesus Christ Superstar Live' Costumes Have Fans Completely Freaking Out
Peter Kramer/NBC
For Easter this year we were all treated to a revival of the iconic musical Jesus Christ Superstar, which was performed live on television on NBC on April 1. The latest installment of the recent string of live TV musicals was definitely one of the biggest and most ambitious to date, and the show definitely made a splash from the beginning, as evidenced by the bold ensemble choices. So it's no surprise that the Jesus Christ Superstar Live costumes had fans freaking out.
We knew that this production of Jesus Christ Superstar was going to be totally different than any other production we've seen in the show's history. And the NBC definitely gave fans what they were yearning for. This rock opera was performed for a crowd of about 1,300 people in a rock concert style, which included a mosh pit group of people in addition to the main seated audience.
One of the biggest differences that I personally noticed were the costume choices for this production, which were serving the audience and viewers nationwide some dark futuristic dystopian vibes. Most of the ensemble was decked out in rocker gear, complete with black leather pieces and a goth feel. Other members, notably the Jewish priests along with the high priest Caiaphas, were sporting some weird but incredible Matrix-style jackets — which were absolutely everything.
Twitter definitely took notice of the bold costumes as well, and naturally freaked out over all the amazingness.
Judas and his Amazing Sparkly Mesh Tank Top got some love too.
In the past when this musical has been put on, the costume choice has usually taken the more traditional route. You know, simple garments and cloaks, sandals, lots of neutral colors, and the like. But considering that this is actually a rock opera, it makes sense to take make the costumes edgier and a lot more interesting to look at than what has been done in the past.
And the producers behind this particular production of Jesus Christ Superstar definitely picked the right person to design the costumes. They billed Paul Tazwell for the gig, who's had similar experiences with designing live TV productions in the past. He previously designed the costumes for NBC's The Wiz Live! and won an Emmy for his work in that production. He's also won a Tony award for his costume design work in this little show, I think you may have heard of it — it's called Hamilton.
Tazwell is obviously a seasoned veteran and well respected in the theatre community. So choosing him as the costume designer was fitting for this grand production of Jesus Christ Superstar. And Tazwell definitely lived up to anything that was expected of him.
For the most part, everyone looked like a futuristic goth or a metalhead. But Jesus Christ and Mary Magdalene's costumes were noticeably more demure and classically akin to other productions of this show. Jesus wore white and neutral tones, while Mary Magdalene wore a simple orange frock. These decisions could be a way to reflect the soft natures of their characters — but I'm no expert in costume design. So who am I to give my two cents on that? (Besides a major fan of this play, that is.)
In any case, this was an absolutely fantastic show. I personally think that it's probably the best that NBC has put on. The performances were impeccable and I was so happy to see John Legend in a Broadway style performance. I think the edginess of this show is so refreshing, and the costume choices for it perfectly emulated that edge without going over the top. And clearly, Twitter feels the same way as I do. It's nice to have validation.