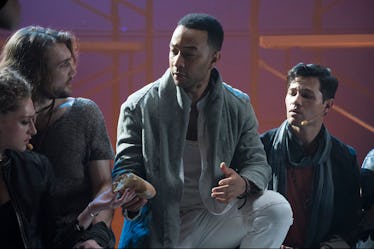 The 'Jesus Christ Superstar Live' Soundtrack Is Coming & All Your Peeps Will Love It
Virginia Sherwood/NBC
There's less than a week until NBC airs their highly-anticipated live musical Jesus Christ Superstar Live, and I can't wait to see what the all-star lineup of John Legend, Alice Cooper, and Sara Bareilles has in store for us. The musical extravaganza follows Jesus during the last seven days of his life, so naturally NBC will be airing Jesus Christ Superstar Live on April 1, 2018 — Easter Sunday. While NBC's live performance is just a one-off, there's no doubt that fans of the catchy tunes will immediately want to stream the Jesus Christ Superstar Live soundtrack over and over (and over) again. Luckily, the network is making it super easy for fans to stream their favorite songs, but before you get too excited, there's a catch: you'll have to wait a little while before you can get your hands on the full list of tracks.
Jesus Christ Superstar Live may air on Sunday, April 1, but fans looking for the soundtrack will have to wait at least five more days to listen to the full album from the show. According to Playbill, NBC has partnered with Masterworks Broadway to release the official soundtrack, which will be released digitally on April 6 and in old-school CD form on April 20. There are 27 total songs on the official album (split into two CD discs if you choose to have a physical memento from the show), including favorites like "Heaven On Their Minds," "Superstar," and "King Herod's Song."
If you just can't wait until April 6, there's a playlist for the TV event on Spotify that includes some of the songs (but not all of them), so you can at least get to know some of the tunes before Jesus' peeps perform them live on Sunday night.
Whether or not you like musical theater, Jesus Christ Superstar Live is a can't-miss TV event. The three-hour musical tells the story of Jesus' final days from the perspective of Judas, the man who ultimately betrayed Jesus. Legend will play the big man himself, and the ten-time Grammy winner is no stranger to huge performances, but don't expect him to steal the stage from his equally-amazing co-stars. Pop singer and Broadway star Bareilles will play Mary Magdalane, a follower of Jesus, rock icon Alice Cooper (no, not Riverdale's Alice Cooper) will play King Herod, and Hamilton alum Brandon Victor Dixon will take on the role of Judas. Prepare for a jaw-dropping show, because these amazing actors are not here to mess around.
The Jesus Christ Superstar Live cast has been rehearsing for weeks in Brooklyn's Marcy Armory, where the performance will air live from, in order to do the original show justice. The first Broadway production of Jesus Christ Superstar opened in 1971 and earned five Tony nominations for composers Tim Rice and Andrew Lloyd Weber. Since its original run, the show has been revived three times and was even turned into a Golden Globe and Oscar-nominated movie in 1973. Legend and Dixon have big shoes to fill as Jesus and Judas, but if anyone is up to the task, it's these two talented performers.
"I'm not afraid of live TV. I've done a lot of live performances, and I'm used to that," Legend told Parade about taking on the iconic role. "But I do feel a little added pressure because I didn't write these songs. This is revered material! I don't want to mess that up." Even though Legend could get his long-deserved EGOT if Jesus Christ Superstar Live is a hit, the actor/singer/writer/everything else remains modest about his success. Maybe he learned a thing or two from Jesus?
Jesus Christ Superstar Live airs Sunday, April 1 at 8 p.m. ET on NBC.