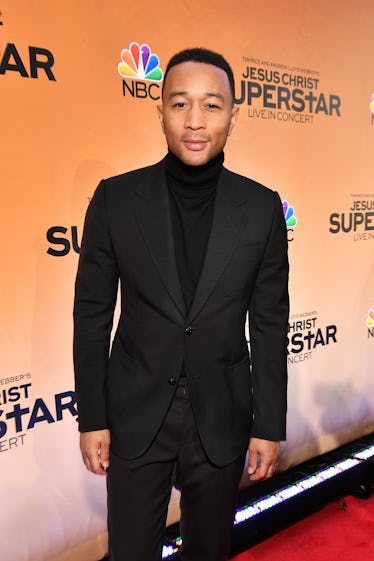 Here's How Long 'Jesus Christ Superstar Live' Will Run, So Grab That Popcorn Now
Dia Dipasupil/Getty Images Entertainment/Getty Images
If you're a musical theater fan, John Legend fan, or just a general fan of can't-miss major TV events — you probably have plans for Sunday, April 1. Jesus Christ Superstar Live is coming to NBC for one night only in a televised extravaganza of superstar proportions. The Andrew Lloyd Webber and Tim Rice favorite is the latest classic to get the live TV treatment. If tuning in is on your agenda, you might be wondering, just how long is Jesus Christ Super Live? Prepare to settle in for the evening. The run time is akin to going to an actual theater, except you can watch it from the comfort of your own couch with snacks and a nearby bathroom at your convenience. Aren't life's simple pleasures grand?
Get comfortable, people. Jesus Chris Superstar Live is slated for a two-hour and 15 minute runtime, according to NBC's website, and will air from 8-10:15 pm ET. The rock opera stars music heavy-hitters John Legend, Sara Bareilles, and Alice "No More Mr. Nice Guy" Cooper. If Broadway history isn't taking up space in your brain or you're more of a Sondheim person, Jesus Christ Superstar is an Andrew Lloyd Webber rock opera that originally made its Great White Way debut back in 1971. Much to fan dismay, it came up empty-handed at the 26th annual Tony Awards after being nominated for five trophies. But its legacy has stood the test of time. Now, it's NBC's turn to revive it for a mass audience.
If anyone can sing live, it's ten-time Grammy winner John Legend. He's kind of a big deal. The world-famous crooner will be playing Jesus in the production, joined by another songwriting chart-topper, Sara Bareilles. She'll be stepping into the role of Mary Magdalene. The show tells the story of the last days of Jesus' life through the eyes of Judas — a part set to be portrayed by Hamilton alum Brandon Victor Dixon. Having industry vets signed on, especially considering they have such tremendous familiarity with performing live, sounds like the way to go for such a pressure-packed concert event.
"I'm not afraid of live TV. I've done a lot of live performances, and I'm used to that. But I do feel a little added pressure because I didn't write these songs. This is revered material! I don't want to mess that up," John Legend told Parade about his nerves, or lack there of.
Legend was also asked if he knew that he now has another opportunity to grab the sought-after EGOT as a result of his TV performance... if all goes well. "Um, yeah, but I'm not plagued by the success of that. I'm just hoping to do a good job and do right by the material," he remarked.
OK, we appreciate the humble attitude, but an EGOT is major. John has an Oscar due to his song "Glory" from Selma, a Tony from co-producing the play Jitney, and ten Grammys because, duh — he's one of the biggest musicians of the last few decades.
We're guessing the eager audience has faith in his accomplished ability to do such beloved material justice.
Sara Bareilles has her own theater know-how to draw from. The singer wrote the score to the Tony-nominated Waitress and even appeared in the lead role of Jenna. "Being a concert performer, the audience is why you showed up," the "Love Song" songstress explained to Playbill of the Jesus Chris Superstar experience. "It will be nice to actually help distract from the idea that there are cameras at all [and] just play to the crowd and hopefully it will transcend."
Jesus Christ Superstar Live airs Sunday, April 1 at 8 p.m. on NBC.