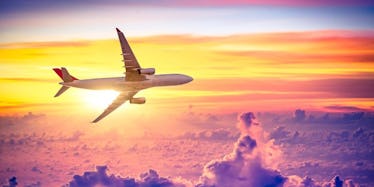 10 Apps That Help You Find The Cheapest Flight, Because We're All Broke AF
Shutterstock
Hey, so flying can get pretty expensive. Anyone who's ever booked a last minute flight knows just how high ticket prices can get. But don't fret: There are a handful of travel apps for cheap flights that will save the day (and your credit card bill) next time you're planning a trip.
Fellow budgeters, bookmark this post for reference and thank me later.
1. Cheapflights
What's in a name? Google 'cheap flights,' and you're bound to discover this appropriately named app. Its cool features like "price calendar" and "chart views" will show you the cheapest days to fly. Plus, you can even compare the price versus the flight duration within the app.
2. GTFO
Last-minute bookers, you need GTFO (Get the Flight Out). The super useful app -- which features a cool retro aesthetic -- will help you find the very best deals down to the wire, taxes and fees included.
3. Hipmunk
Let a cute chipmunk be your travel agent with Hipmunk. Like most travel apps, you can compare prices and set travel alerts. However, what sets Hipmunk apart is its search filters. If you'd rather avoid the annoying aspects of travel (i.e. multiple layovers), you can actually filter your results.
4. Hitlist
Once you enter your interests into Hitlist, this app will actually tailor travel alerts for you. Beyond your regular flight deals, expect to scroll through lots of #travelinspo photos before you even checkout. You can also plan trips with your friends if they have the app, too.
5. Jetradar
If you're planning a trip with multiple destinations, Jetradar's Price Map can actually show you how much a ticket to each costs, making it easy to pick the most affordable one. The catch: Once you've found a winner (or winners), you'll need to book it through the airline, as Jetradar doesn't sell tickets.
6. KAYAK
You've probably seen KAYAK's commercials for their website, but the app is just as handy. And as of June 22, 2016, you can actually search for destinations using emoji. Yas!
7. Liligo
Liligo is an all-in-one travel app geared toward those of us on a budget. With fare alert notifications, a deal map, and 70 low-cost airlines to choose from, you're bound to score a money-saving price.
8. Momondo
This app features a soothing purple, orange, and pink color palette that'll make you want to spend hours finding the right flight. Similar to others before it, you can use their price map and search filters to ensure the one you choose checks all the boxes.
9. Skyscanner
Need another language? This award-winning app is chock-full of amazing resources and available in 30 languages. It literally scans the skies for great prices, and if you're not sure where you want to go, you can just search 'everywhere' for inspiration.
10. Travelzoo
Speaking of inspiration, Travelzoo's weekly Top 20 list is extra convenient for those looking to score a sweet deal. It has five-stars in Apple's App Store, proving its "Deal Experts" know what they're doing.
Okay, now it's time to conquer our wanderlust and use these apps! You ready?