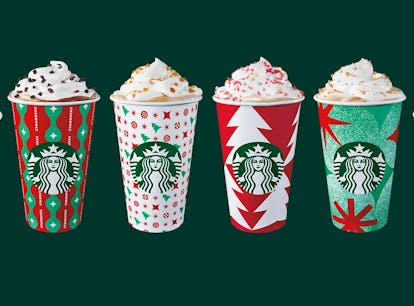 Starbucks' Holiday Drinks & Cups Will Be Back Earlier Than Last Year
Courtesy of Starbucks
Everyone knows the holidays officially begin the day Starbucks rolls out its seasonal menu and you can sip a Peppermint Mocha in a festive cup on the reg. You can usually count on a November return, but the date — and day of the week — when holiday drinks come back to Starbucks varies every year. If you're wondering when Starbucks' holiday drinks and cups will come back for 2022, here's what to know about a slightly earlier return than last year. Plus, check out which seasonal drinks and food items you can expect to see on the menu.
Get ready to trade in your Pumpkin Spice Latte for something a whole lot more festive. In past years, the coffee giant has celebrated the most wonderful time of the year with sips like the Irish Cream Cold Brew, the Iced Sugar Cookie Almondmilk Latte, and free usable cups with every handcrafted drink order on red cup day. Of course, the fan-favorite Peppermint Mocha always makes its glorious return, too. And if you're already over pumpkin-flavored everything, you'll be glad to hear you can get your seasonal fix once again on Nov. 3.
Starbucks released its 2021 holiday menu on Thursday, Nov. 4, so this year's drop will be ever-so-slightly earlier, but the day is in line with recent Thursday holiday drops. The 2020 menu released on Thursday, Nov. 5, and the 2019 menu debuted on Thursday, Nov. 7. Before that, the 2018 menu had a Friday, Nov. 2 release; and its 2017 menu became available on Wednesday, Nov. 1.
When Will Starbucks' Holiday Drinks Return For 2022?
If you were paying attention to earlier reports, you may have hoped for a Wednesday return again, and it would have marked the first Wednesday holiday menu release since 2017. Even though the reported materials shared in a Sept. 27 Instagram post by @markie-devo had the date of Nov. 2 on them, that turned out to be the date Starbucks confirmed the Thursday, Nov. 3 return. Mark that down: Nov. 3 is the official start of the holidays at Starbucks.
According to Starbucks, you can expect a slew of holiday favorites, like the Peppermint Mocha, Caramel Brûlée Latte, Chestnut Praline Latte, and the Toasted White Chocolate Mocha, as well as newer sips like the Irish Cream Cold Brew (which is returning for its fourth year), and the Sugar Cookie Almondmilk Latte, which debuted in 2021 as the first holiday non-dairy drink. What won't be on the menu — again — is the fan-favorite Gingerbread Latte.
When Will Starbucks' Holiday Food Items Return For 2022?
You can also expect Starbucks' lineup of holiday-themed treats and bites to hit stores on Nov. 3. With four returning goodies and one new offering, you'll want to pair your Peppermint Mocha with something new during every coffee run. The holiday food menu includes the Snowman Cookie, the Sugar Plum Cheese Danish, the Reindeer Cake Pop, the Cranberry Bliss Bar, and the new Chocolate Pistachio Swirl. TBH, the newest sweet in the bunch sounds like a can't miss item that's made with brioche-style dough and has notes of cinnamon and coffee, and it has a chocolate filling and is topped with pistachios.
When Will Starbucks' Holiday Cups Return For 2022?
Starbucks has been known to launch its beloved festive containers the same day as its holiday menu, and the chain is celebrating 25 years of the famed red cup when the holiday menu and cups drop on Nov. 3. The holiday design debuted in 1997, and it actually wasn't even a red cup that year (or in 1998) — they were both purple. From then on, though, Starbucks made the switch to red and mostly stuck with it as the company released holiday designs to pair with your festive drinks.
There are four new designs for the 2022 holiday season (pictured below, from left to right): Ornament Wonder, Frosted Sparkle, Gift-Wrapped Magic, and Cozy Evergreen.
As for red cup day 2022, it's not clear when that will happen yet since it wasn't in any of the announcements about the holiday return on Nov. 3, but you can expect it to be similar to 2021. Last year, the free reusable red cup was given away a couple weeks after the initial holiday menu drop. So keep an eye out for when you can score a limited-edition holiday-themed reusable cup with your purchase of a handcrafted holiday or fall menu drink.
Until then, get ready to make all your coffee runs a little more festive at Starbucks.
This article was originally published on