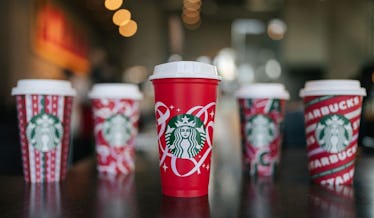 Starbucks' Red Cup Day Is FINALLY Coming Back, And It's So Soon
Courtesy of Starbucks
With the holiday season in full swing, you've probably already swapped out your morning coffee for a seasonal Starbucks drink. The holiday menu hit U.S. Starbucks stores on Nov. 4, but unlike past years, Starbucks' red cup day for 2021 didn't coincide with the holiday launch. Thankfully, red cup day is back — and it's so soon. Here's everything you need to know about the collectibles' return on Nov. 18.
The coffee giant will officially ushered in red cup season on Thursday, Nov. 4, but seasonal sip stans have had to wait to get their precious reusable free holiday red cup. Thankfully, Starbucks is bringing back red cup day at participating U.S. stores on Thursday, Nov. 18, and it's so easy to score one. Similar to past years, the reusable red Starbucks cup will be free with any purchase of a Starbucks holiday drink while supplies last.
This year's wrapping paper design on the reusable red cup has a holiday-perfect red background, a green Starbucks logo, and white ribbon. TBH, the 2021 reusable red cup is an understated holiday design that'll make your sips more festive all season long. Previous iterations of the free reusable red cup featured a cozy sweater design (2020) and a "Merry Coffee" cup (2019).
Here are the the new and returning holiday drinks that'll score you a free reusable red cup on Nov. 18: Chestnut Praline Latte, Peppermint Mocha, Toasted White Chocolate Mocha, Toasted White Hot Chocolate, Caramel Brulée Latte, Irish Cream Cold Brew, and the new Iced Sugar Cookie Almondmilk Latte. You can also get the free holiday cup with the Pumpkin Spice Latte or Pumpkin Cream Cold Brew. You can get the cup with
When you get your reusable red cup, you can then clean it and bring it back for 10 cents off your drink order when you place an order inside a Starbucks store.
In addition to the return of the reusable red cup, Starbucks' also has four Instagram-worthy disposable holiday cup designs:
Wrapping Paper — a colorful geometric design with circles, glitter, and sparkles in red, white, and green shades.
Ribbon — adorned with designs of white and iridescent lilac ribbon playfully scattered across the surface.
Holiday Lights — a bold take featuring letters that spell out Starbucks, holiday lights, and a swirl of ribbons.
Candy Cane — stripes of lilac, white, and green, and Starbucks spelled out throughout.
Before you head into Starbucks to get a holiday sip, remember to check the CDC guidelines for the most updated health rules.
This article was originally published on