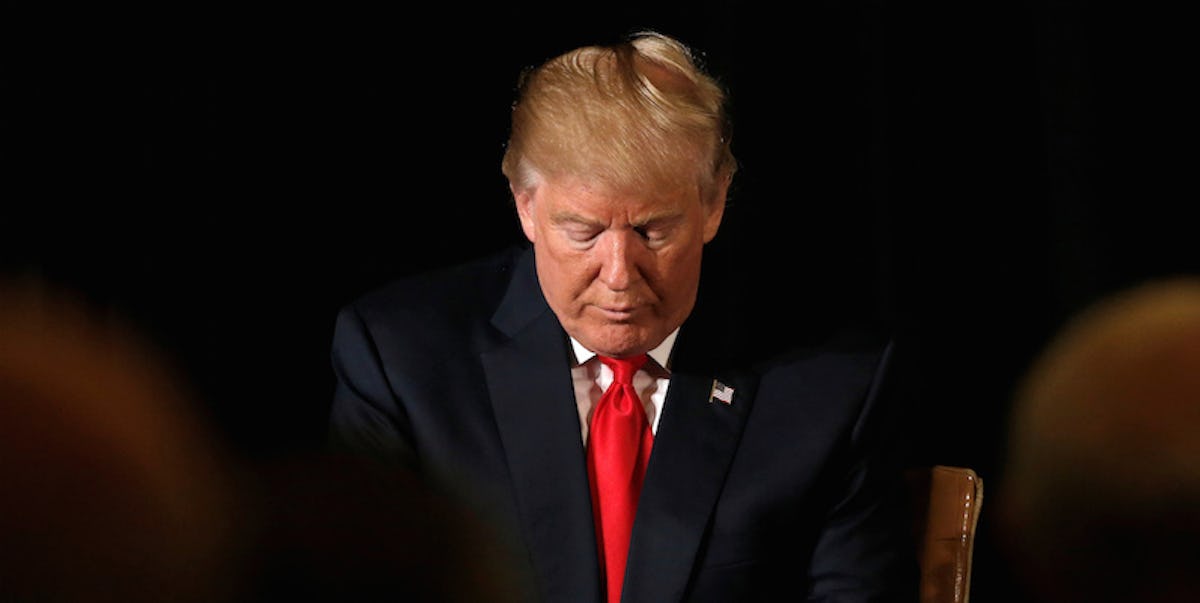 The Trump Foundation Just Got Shut Down And No One Can Get Over The Hypocrisy
REUTERS
Republican presidential nominee Donald Trump's charity was given a cease and desist by the New York state attorney general for operating without a proper license.
Sorry, I just need a moment.
Anyway, as I was saying...
Donald Trump's foundation, the Donald J. Trump Foundation, was found to be in violation of New York state law. The letter was sent on Friday.
Basically, the foundation was running without the right certification, a fact that was discovered by Washington Post reporter David Fahrenthold last Thursday.
Fahrenthold has been doing an excellent job tracking the Trump Foundation over the last few months.
He's the one who found out, for instance, Trump used $258,000 from his charity to pay off his businesses' legal problems.
Fahrenthold was also the one who found out that Trump used $20,000 from his charity to buy a six-foot-tall painting of himself.
Ooh, ooh, also! Fahrenthold was the one who found out Trump was basically not personally donating any money to charity.
So, Trump's foundation was not operating with proper legality. And now, it has to stop fundraising immediately under the attorney general notice.
This is especially delicious because of all the attacks Trump has made against Democratic nominee Hillary Clinton.
Trump has said Clinton should be "locked up" for her email use. He said she broke laws. He said her Clinton Foundation is nefarious.
The Clinton Foundation, meanwhile, has served millions around the world. Charity Navigator rates it at 94.74 out of 100.
The hypocrisy was lost on no one.
And boy, did people seem to enjoy this new information:
This is just another hit in Trump's terrible, horrible, no good, very bad week, which was supposed to end last week, but, clearly, did not.
Last Monday, Clinton invoked the name of Alicia Machado, former Miss Universe whom Trump had called "Miss Piggy," at the first presidential debate, leading to a week of Trump continuing to say horrible, fat-shaming and slut-shaming things about her.
The New York Times subtly compared him to Adolf Hitler. His campaign leaked information that he acted like a child in debate preparation, leading to a series of bizarre late-night tweets from the nominee. His hotel spelled "America" wrong.
A soft-core porn video Trump was in surfaced. USA Today broke tradition and issued a biting non-endorsement, urging readers not to vote for Trump. It came to light that Trump's company violated the Cuba embargo.
This Monday, Trump insulted veterans. The AP came out with a report that people on set of "The Apprentice" saw Trump acting gross, leery and sexist. Meanwhile, members of his campaign spewed more terrible sexist shit throughout the week.
And then, on Saturday night, the New York Times dropped their hot new single, "Trump Lost Nearly A Billion Dollars In 1995 And May Not Have Paid Taxes For 18 Years."
So on top of all of that, Trump's "charity" foundation has been ordered to stop by the New York state attorney general.
As of Monday morning, Clinton had seen a big jump in the polls over Trump — and that was before this foundation news came out.
Elite Daily and 50 other media organizations partnered with Rock The Vote to register 100,000 women to vote. You can register right here (and men can use it too) :
Citations: Washington Post