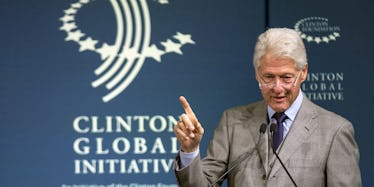 Everything You Really Need To Know About The Clinton Foundation Scandal
REUTERS
Hillary Clinton is tied to a few "scandal" buzzwords that can be used against her. Some of these scandals are legitimate concerns. Others are mean conspiracy theories, and most fall in between the spectrum.
Elite Daily is explaining them to you as quickly as possible, along with some analysis on how much you should care about each one.
What happened:
After Bill Clinton left office in 2001, he started doing charity work. In 2002, the Clintons started working on HIV and AIDS prevention and treatment.
Over the years, the foundation has worked in childhood obesity, sustainable growth in Africa and Latin America, treatments for disease and health and Haiti earthquake relief, among other ventures.
What people say about it:
People say that it's a nefarious organization that lines the Clintons' pockets and gets donations from people who want special political favors from the Clintons.
Data says the organization served millions of people around the globe. Tax income returns show that the Clintons donated $23.2 million since 2001, which is around 37.6 percent of their maximum net worth, according to the Daily Beast. Charity navigator rates it at 94.74 out of 100.
Should it matter in this election?
If there's proof that Clinton followed pay-to-play practices with the foundation – wherein she gave special access to people who donated to the charity while she was serving as Secretary of State – then yes, that's an issue.
The Clinton campaign has slightly negated that backlash by announcing their own future plans with the foundation. They announced a few weeks ago that should Hillary win the election in November, Bill and daughter Chelsea will step down from the board of the charity. The charity will then be turned into an independent organization.
If you care about a candidate's charity work, you can make the comparison to Donald Trump. The Washington Post has been doing a series of investigations into the Trump Foundation, finding that Trump has personally donated very little to his own foundation.
With that information, the Clintons have donated at a rate of 1,000 times Trump's giving, relative to their wealth, according to the Daily Beast.
Trump used $20,000 from the charity to buy a 6-foot tall portrait of himself. He used $258,000 from the charity to settle legal problems for his business.
Citations: Clinton Foundation, Wired, Daily Beast, Charity Navigator, New York Times, Washington Post