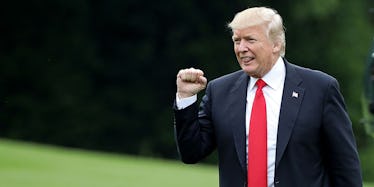 Trump Almost Set A New Record For Not Tweeting, But Then He Threw Shade At Comey
Win McNamee/Getty Images)
Donald Trump couldn't resist.
On Friday morning, the president was just three minutes away from setting a record for the longest amount of time he has gone without tweeting.
Then, the inevitable came: He threw shade at former FBI Director James Comey.
Here's what Trump had to say.
Since the day Trump declared himself a candidate for the presidency, the longest time he has spent without tweeting is 2,756 minutes, according to an analysis by the Washington Post.
That brief hiatus, which lasted about two days, came during last Thanksgiving weekend, when Trump broke his silence to pass along some breaking news.
On Friday, Trump broke his second-longest streak for obvious reasons.
A day before, director Comey testified before the Senate Intelligence Committee. Comey, who was fired by Trump last month, answered questions from members of Congress about the nature of his relationship with the President while he still served at the FBI.
Comey revealed information that was both serious and light-hearted. First, the serious stuff: Comey said the Trump administration spread lies to the public when it explained why the former director was fired.
Comey also said Trump pushed the then FBI director to end an investigation into former National Security Advisor Lt. Gen. Michael Flynn.
Comey then revealed that he leaked contents of a memo that revealed information about his conversations with Trump, with hope that the leak would prompt the appointment of an independent investigator.
On a much lighter note, Comey also told Congress that he had to cancel a date with his wife at one point because the president wanted to have a one-on-one dinner.
Trump, to the surprise of many, refrained from tweeting the during the hearing, which is a departure from his usual tendency to swiftly clap back his political adversaries.
The clap-back did eventually come, however, right before the president set a record hiatus from the Twittersphere.