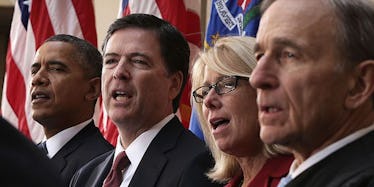 Comey Had To "Break A Date" With His Wife For An Awkward Dinner With Trump
Alex Wong/Getty Images
James Comey's wife is now a point of fascination.
No, it's not because of anything related to Russian collusion, obstruction of justice or any question of impeachment.
It's because of something more simple.
Comey, the former FBI director, had to cancel a date with her to have what sounds like an awkward dinner President Trump.
Comey's shared the story of that event during his testimony on Capitol Hill. A video of him doing so can be seen below.
The story begs the question, who is James Comey's wife? The answer is 57-year-old Patrice Failor, with whom he has been married for 30 years, according to the International Business Times.
The couple met as freshmen at the College of William and Mary and moved to Virginia to raise their children because Failor did not like living in New York. Comey told New York Magazine,
My wife wasn't digging New York. We wanted to live in a place where we'd both be happier raising our kids. She knew northern Virginia, because she'd grown up there and in Iowa, but we liked Richmond as a place to live.
The couple has had six children together. One of them, a son named Collin, tragically died nine days after birth due to a Group B strep infection, the Richmond Times-Dispatch reports.
The death prompted Failor to wrote an op-ed in the Times-Dispatch, advocating for routing screenings for the infection. Comey, in turn, filed a lawsuit against the hospital in which his son was born, according to New York Magazine. NY Mag also reports, the suit was eventually dropped after a settlement was paid and the hospital's procedures were changed.
The couple's most notable recent appearance came in Washington during a visit to see a performance of "Fun Home," a LGBT-themed musical.
According to Newsweek, Failor holds a master's degree in counseling and is currently an advocate for foster care.