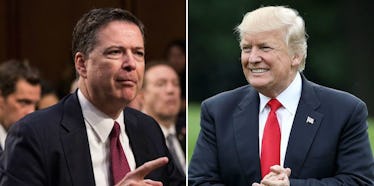 Trump Didn't Tweet During Comey Testimony And People Freaked Out
Drew Angerer / Win McNamee / Getty Images
President Donald Trump didn't tweet during former FBI Direct James Comey's testimony in front of the Senate Intelligence Committee on Thursday, and people freaked out.
Most of the time, it's safe to say people would like Trump to stop tweeting, including his supporters.
But, in this instance, it seems people actually kind of missed his tweets. The whole thing just didn't feel the same without them.
After all, Trump had tweeted during a previous hearing involving Comey. But that ended poorly for him, so perhaps that's why he kept his Twitter fingers holstered today.
People really couldn't handle the fact Trump didn't tweet -- it was one of the biggest topics of discussion during Comey's testimony.
There were a lot of theories as to why Trump wasn't tweeting.
A bar had promised to offer free drinks for every Trump tweet. Even though he didn't, it still made good on the pledge.
Donald Trump Jr., his son, did tweet (a lot), but it just wasn't the same.
Some might say, "Trump didn't tweet, but who cares?"
If you're a Trump supporter, you might be tempted to dismiss Trump's tweets as him communicating directly with the public. If you're anti-Trump, you might be tempted to think his tweets are of no consequence, he's just trying to rile people up and the best thing to do is ignore them.
But the fact of the matter is Trump's tweets have been a consistent point of controversy since his campaign, and have real-world consequences.
Recent tweets from Trump in relation to his "travel ban" against six predominately Muslim countries, for example, could come back to haunt him in the Supreme Court.
London Mayor Sadiq Khan also recently called for cancelling Trump's planned visit to the UK in relation to tweets he sent that berated Khan and misconstrued a statement he'd made after a terror attack on June 3.
Moreover, it's not exactly Trump's style to hold back, so it was quite surprising.
Not to mention, even though Trump refrained from tweeting during the hearing, his tweets were still mentioned a number of times, and one of his tweets played a key role in Comey's testimony.
Trump reportedly watched the Comey hearing with his personal attorney, Marc Kasowitz, and other members of his legal team, according to the Wall Street Journal.
Prior to the hearing, Washington Post reporter Robert Costa tweeted,
I'm told by two WH sources that Pres. Trump does not plan to put down Twitter on Thursday. May live tweet if he feels the need to respond.
On Thursday, after the hearing was over, Costa again tweeted, adding,
WH sources tell me they're relieved Trump hasn't live tweeted. That was a fear/expectation earlier in week. Don Jr. channeled his father.
But, knowing President Trump, it's probably only a matter of time before he chimes in.