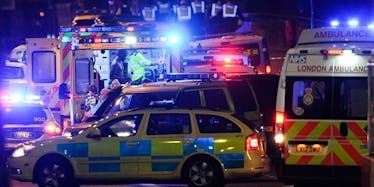 London Prime Minister Addresses Terror Attacks: "Things Need To Change"
DANIEL SORABJI / Staff / Getty Images
Seven people were killed and dozens more injured in last night's terror attacks in London, and Prime Minister Theresa May plans to take action.
According to The New York Times, she addressed the media on Sunday morning and said, "Our society should continue to function in accordance with our values. But when it comes to taking on extremism and terrorism, things need to change."
She plans to focus on the physical and online communities that provide Islamist radicalism "the safe spaces it needs to breed," according to The Times.
Britain's Home Secretary Amber Rudd said the government is confident the attackers were "radical Islamist terrorists." ISIS claimed responsibility for the attacks later in the day on Sunday.
Last night's London Bridge and Borough Market incidents mark the third major terror attack in the country within three months.
After driving a van into pedestrians, the three attackers — who were wearing fake suicide belts — launched a stabbing spree at nearby restaurants and pubs. Police responded to their first emergency call around 10 p.m. and headed toward the bridge, where they killed the three assailants within roughly eight minutes, the Metropolitan Police Commissioner Cressida Dick said.
On Sunday, police conducted a raid and arrested 12 people they believe to be connected to last night's events. The search is ongoing.
Though the gruesome acts have disrupted many lives, the U.K. election will continue as planned on Thursday, June 8, as will today's Ariana Grande benefit concert, which intends to raise money for the victims of the May 22 bombing at her Manchester Arena concert.
The attackers have yet to be identified. There are 21 individuals who remain in critical condition, according to CNN.
Our thoughts and prayers go out to those who have been affected by the horrific incident.
Citations: After London Attack, Prime Minister Says: 'Enough Is Enough' (The New York Times), London terror attack: Theresa May vows to battle 'Islamist extremism' (CNN)