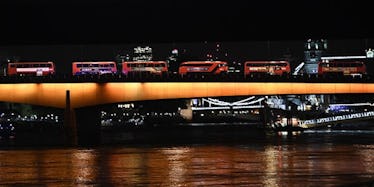 Here's All We Know About The "Terrorist Incidents" Near London Bridge
Carl Court / Staff / Getty Images
Police have responded to three incidents in London on Saturday, June 3.
Though Prime Minister Theresa May initially said they were being treated as "potential acts of terrorism," according to The New York Times, only the incidents at London Bridge and Borough Market have been confirmed as acts of terrorism, according to the Metropolitan Police.
Around 10 p.m., officers closed London Bridge after a white van mounted the sidewalk and hit pedestrians, per bystanders' accounts. Onlookers also reportedly saw at least one man with a knife, The Times reported. There were casualties with more than one person dead, police said, and the subway station in the area was shut down.
CNN spoke to a witness named Mark Roberts, who was on the bridge while this unfolded. He said, "Within my line of sight, there were five or six people on the ground that were not moving. It looked to me that the van was aiming at the people."
Nearby in Borough Market, which is well known for its restaurants and pubs, people reported knife attacks, and police said that shots were fired, according to The Times. CNN reports that there have been stabbings.
The Times spoke with a witness, who would only identify himself as Andrew. He said after a man with a massive knife appeared and he saw a dead man on the ground, he "ran for [his] life."
Vauxhall was the third area where police headed on Saturday evening, though The Times said little information was provided about the circumstances. CNN reported that this event was not connected to the attacks on the bridge and in Borough Market, according to London's Metropolitan Police.
CNN further reported that Britain's Press Association said the prime minister will chair a meeting of the Government's Cobra emergency committee on Sunday, June 4.
Those currently in one of the areas were asked to head toward safety, silence their phones, and call the police when they could.
Our thoughts and prayers go out to those who have been affected.
Citations: London Bridge Shut Down After Pedestrians Struck; Stabbings Reported in Nearby Market (The New York Times), London Bridge: Van mows down pedestrians; stabbings at nearby cafe, witnesses say (CNN)