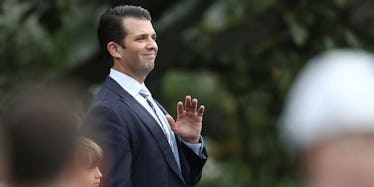 Trump's Son Tried To Live-Tweet The Comey Testimony And Twitter Wasn't Having It
Win McNamee/Getty Images
President Donald Trump refrained from his typical role as tweeter-in-chief on Thursday during former FBI Director James Comey's testimony in front of the Senate Intelligence Committee, which actually seemed to disappoint some people.
It's honestly quite strange when Trump refrains from tweeting in general, but especially in this context since he's the central focus of the current hearing.
He's likely either been advised to avoid tweeting as to not get himself into trouble, or he's showing an uncharacteristic level of restraint.
Trump live-tweeted during a Comey hearing back in March, and one of his tweets was actually fact-checked during the hearing on live TV.
But, in the president's absence, Donald Trump Jr. stepped up and attempted to emulate his father.
On this topic, it's worth noting Trump Jr. is running The Trump Organization and has supposedly disconnected from politics and the Trump administration as to avoid any conflicts of interest.
But, here he is actively commenting on a hearing regarding the dubious dismissal of the FBI director by his father amid an investigation into the Trump campaign's alleged collusion with Russian interference in the 2016 U.S. presidential election.
This is precisely why some people think Trump Jr.'s tweets are unwise, and he's only digging a deeper hole for his father and family.
It didn't go well for him. Twitter can be a ruthless place.
"My God you're dumb."
"Your opinion doesn't count."
Ouch.
"Your father's entire presidency is a joke, man."
People seem to find Trump Jr.'s tweets almost as compelling as the hearing itself.
A Washington D.C. bar planned to offer free shots for each tweet from the president.
Sadly, tweets from Trump Jr. reportedly don't count, which is probably for the best, given people would be absolutely hammered drunk at this point due to the sheer number of tweets.