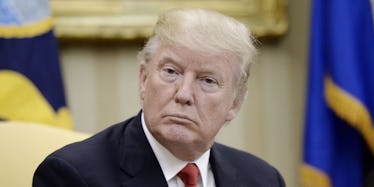 People Are Pissed Over Donald Trump's Tweets About The London Terror Attacks
Olivier Douliery-Pool/Getty Images
Many people have fired back at President Trump after he addressed last night's terror attacks in London with a string of tweets.
Seven people were killed, dozens were injured, and 21 out of the 36 hospitalized remain in critical condition. Three attackers — who drove a van into pedestrians on London Bridge and went on a stabbing spree nearby in Borough Market — were killed in roughly eight minutes after police arrived at the scene around 10 p.m., according to Metropolitan Police Commissioner Cressida Dick.
On Sunday, police conducted a raid and arrested 12 people they believe were connected to the events. The search is ongoing.
In the wake of these horrific acts, people took to social media to show their love for London.
Donald Trump's first tweet about the attacks addressed his travel ban, not London.
"We need the Travel Ban as an extra level of safety!"
The president finally referred to his controversial executive order as a ban, and Twitter was quick to respond.
Many people were upset Trump chose the London attacks as an opportunity to push his agenda.
Trump's followup tweet said the U.S. is willing to help the U.K. with whatever it needs.
Here, he said we stand with the U.K.
Some were not willing to forget the initial mention of the travel ban before the tweet showing America's support for the U.K.
People did not back down.
The president also said, "We must stop being politically correct," but perhaps Trump's tweet that garnered the most attention was the one about the London Mayor, Sadiq Khan.
In the mayor's statement to Londoners, he said, "My message to Londoners and visitors to our great city is to be calm and vigilant today."
Trump tweeted, "At least 7 dead and 48 wounded in terror attack and Mayor of London says there is 'no reason to be alarmed!'"
According to The Guardian, a spokesman for Sadiq Khan said the mayor had "more important things to do than respond to Donald Trump's ill-informed tweet that deliberately takes out of context his remarks."
Trump's final tweet on the issue (thus far) was posted on Sunday morning.
It was also met with criticism.
On Sunday, ISIS claimed responsibility for the attacks.
Political parties aside, we must stand together and put the victims of this senseless tragedy above all else.