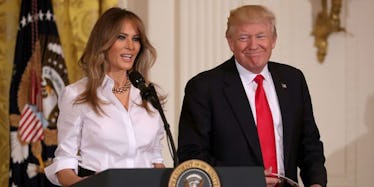 Melania Trump Might Actually Be The President's Biggest Source For News
Getty Images
There's a great deal of focus and speculation in the media over the relationship between President Donald Trump and First Lady Melania Trump.
More specifically, many seem to believe things aren't going so well for the couple and that Trump is not enjoying her role as first lady.
People have read into the fact Trump delayed her move to the White House as well as her demeanor toward the president at various events.
But, according to what friends and aides recently told Politico, she might care more for her husband's well-being than many seem to believe.
The first lady is apparently an "avid viewer of cable news" and pays close attention to how the president is portrayed by the press.
When Trump thinks certain stories make her husband look bad, she reportedly alerts the president.
On top of this, the first lady is allegedly of the belief his communications and press team are doing a poor job defending President Trump and is particularly annoyed at leakers.
One outside adviser who reportedly "speaks to the president regularly" told Politico,
[Trump] was really concerned that Spicer was not doing a good job, that they were not proactive in defending the president. The leaks bother her. She believes a lot of people are more interested in serving themselves than him.
While Trump has not been in the public eye very much since her husband's inauguration, it seems she might be far more active behind the scenes than previously known in terms of offering the president personal support.
According to what aides and friends told Politico, she's one of the "several people [President Trump] calls at night to hear how the dysfunction in his White House is playing out beyond the Beltway."
At the moment, the first lady is with the president on his first trip overseas.
On Monday, they arrived in Israel, and a lot of people are focusing on a clip that seems to show Trump smacking the president's hand away during their visit.
It's fair to conclude the first lady is concerned with perception, based on this story from Politico as well as previous incidents in the past.
Perhaps Trump thought it was a bad moment to hold hands, or perhaps there's something more there.
It also could've just been nothing -- a simple twitch of the hand.
When it comes down to it, the state of the relationship between the president and first lady is their business.
But, it will certainly be interesting to see how the first lady influences the Trump administration once she enters the White House and whether she'll take a more active role trying to contain bad press and leaks.
Citations: Melania scours media to protect Trump (Politico)