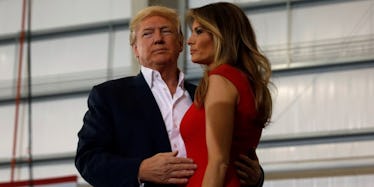 Body Language Experts Break Down Melania's Reaction To Trump In Viral Video
REUTERS
A video from Donald Trump's most recent campaign rally has the internet extremely concerned about Melania Trump's well-being.
In the clip filmed on Saturday, February 18 at the president's event in Orlando, Florida, Melania is preparing to deliver the Lord's Prayer for a rambunctious crowd surrounding her.
Moments before she begins the prayer, Donald Trump approaches the FLOTUS and touches her upper arm before walking behind her.
In that very moment, Melania takes a quick breath, rapidly turns her head and looks down at the podium. When she looks back up, she re-focuses and begins the prayer.
.@FLOTUS opens her remarks with the Lord's Prayer. pic.twitter.com/z0Vk6znjL8 — Fox News (@FoxNews) February 18, 2017
After the video clip was posted on Twitter, one user specifically pointed out the controversial moment when Donald approaches his wife, and people became worried.
Some people claimed Melania acted how "sexual abuse victims react to their aggressors in public," while others seemed unfazed by the couple's interaction.
In order to properly decipher the meaning behind Melania's reaction to Donald Trump, Elite Daily spoke with body language experts who analyzed the clip for us.
Elite Daily spoke with two body language experts who watched the video of Donald touching Melania's arm, and a few conclusions could be made based off their analyses.
Dr. Lillian Glass, a highly acclaimed Body Language and Communications Expert, watched the video and concluded Melania's demeanor on stage was caused by fear.
I find her to be extremely nervous and very uncomfortable in her role of First Lady.
She wasn't referring to a fear of Donald Trump, though -- she was referring to a fear born from being the first lady.
Of Melania's reaction on stage, Glass said,
I find her to be extremely nervous and very uncomfortable in her role of First Lady. She's extremely tense, her voice shakes, it often cracks which shows a sign of muscle tension that has nothing to do with Donald Trump.
She commented on Melania's dislike for public displays of affection and said,
She hates PDA, it's very obvious.  Michelle and Barack were all over each other, they were warm and affectionate, that's not the case here.  What we're seeing is a very frightened and uncomfortable first lady -- that has nothing to do with Donald. 
Glass mentioned another possible reason why Melania flinched on stage, stating,
She doesn't want to do the wrong thing so she tenses her body up and she flinches. 
However, Susan Constantine, Behavioral Body Expert in the President of Jury Lab, analyzed the video of Donald Trump touching Melania's arm and came to an entirely different conclusion.
She claimed Melania's reaction to her husband's presence "showed disdain," and said,
Right when Donald Trump walked by, I noticed there was a shift in her demeanor. That's showing disdain. 
Constantine continued, saying,
He came up behind her, it was the touch on the shoulder and the shoulder shrugging to dismiss him. 
The expert concluded her reaction to the president's touch was reactionary from the way he's repeatedly treated her in the public eye.
There is no love there.
Referring to their relationship, she said,
She wants to be felt present and he does not give that to her. She has a strong disdain for her husband.
After watching the video, the expert concluded by saying, "There is no love there."
It's obvious people online have jumped to their own conclusions about why Melania Trump reacted the way she did when Donald approached her on stage.
Whether or not Melania's flinch was reactionary to her constant fear in her newfound role of being the first lady or simply an act of disdain toward her husband, Melania will remain in the public eye.
It's important to seek professional advice about her demeanor before jumping to conclusions about what's happening behind closed doors.