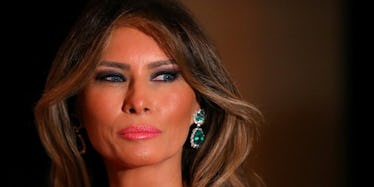 Melania Trump Is 'Miserable' Being First Lady, So Those Sad Pics Make Sense Now
REUTERS
Donald Trump loves the spotlight — he always has and he always will.
Ever since he was elected into the Oval Office, President Trump has embraced the fame and fortune with open arms. It's almost as if he's the star of his own TV show or something. Funny, right?
Do you know who isn't enjoying the spotlight as much as the president?
His wife, Melania Trump, is not as thrilled being in the limelight.
Apparently, Melania has been having a miserable time as first lady of the United States, and we can't exactly blame her.
It's been reported FLOTUS is experiencing difficulties adjusting to her new life and the stigmas that go along with being the president's wife, US Weekly reports.
In fact, an insider told US Weekly that Melania never even wanted to be the first lady to begin with.
Phillip Bloch, a Trump family friend, said,
This life wasn't her dream. It was Donald's. Truthfully, it's a lot to cope with.
Ouch...
Another family source claimed Melania is unhappy with the life she's been given and stated,
Melania is unhappy with how her life ended up. She is miserable.
"Melania: Blink twice if you want us to save you."
A counter source claims the Melania is "happy with her life," but we can't help but think her alleged misery could easily explain the sad pictures of her that've emerged since Trump was elected.
Why is Melania so freakin' sad, though? If I lived in a $100-million pad, my worries would wash away instantaneously.
I supposed her distress is understandable, though. After moving to New York City to pursue a fashion career and ending up with Donald Trump — aka the president — I'd be bummed, too.
It's been reported Melania doesn't like to leave her lavish New York apartment, and she's only done so a handful of times.
A source said her pride and joy — Barron, her 10-year-old son — can't even persuade her to leave her pricey abode. She's living at the apartment with Barron until he finishes school.
Since she became the first lady, internet trolls have been harassing both Melania and Barron online, and it affected her deeply.
The trolls were (and still are) so brutal, she had to hire a team to help combat the critics, which is certainly enough proof the scrutiny was getting to her.
Judging from the inside sources who've made Melania's true feelings known, we can assume she's struggling with her new role in the US.
Who knows, though. Maybe Donald Trump will be impeached and she can go back to focusing on her fashion career?
Citations: Melania Trump Is 'Miserable' as First Lady, 'Unhappy With How Her Life Ended Up' (US Weekly)