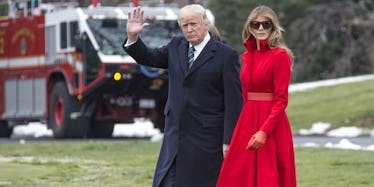 Trump And Melania's Unusual Sleeping Arrangement Says A Lot About Relationship
REX/Shutterstock
Donald and Melania Trump are currently living in different cities, but they don't share a bed even when they have the chance to do so, according to sources.
Newly surfaced claims about the couple's private life suggest Melania refuses to sleep in the same bed as the president.
However, representatives for the first lady robustly deny the claims, which three anonymous sources made to Us Weekly.
The surprising new statements follow a number of reports suggesting the 46-year-old is "miserable" in her role as first lady.
She is still living at Trump Tower in New York City but will move into the White House with her husband in June, after their son Barron has finished the school year.
In the new report, a source revealed to Us Weekly, "They have separate bedrooms. They never spend the night together, ever."
Another source said they do in fact share the same bedroom, but sleep in separate beds.
Meanwhile, a person described as a "family source" suggested Melania is unhappy in the relationship, saying, "Melania wants as little to do with Donald as possible. She is not interested in Donald, the presidency or anything involving him."
In total, Us Weekly cited "multiple sources" who allegedly told the magazine the first lady refuses to share a bed with her husband.
But their claims were strongly denied by a spokesman for the first lady, who told Us Weekly, "It's unfortunate that you are going to feature unnamed "sources" that have provided fictional accounts."
Melania played a minimal role during Trump's successful election campaign last year.
The former model has repeatedly shunned the spotlight since her husband took over the presidency over two months ago, with her official schedule limited.
This has led to many people suggesting the role of first lady is being performed by Trump's daughter, Ivanka.
Citations: Donald Trump and First Lady Melania Keep Separate Bedrooms: 'They Never Spend the Night Together' (Us Weekly)