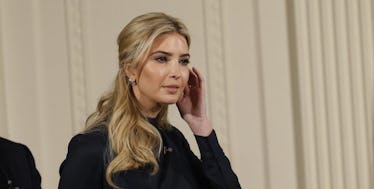 Ivanka Trump Just Made Major Move In White House, Proves She's Real First Lady
REUTERS
Ivanka Trump is now getting her own office in the White House West Wing.
To be clear, this is not normal.
Ivanka does not have an official role in Donald Trump's cabinet. The West Wing is the presidential part of the White House and is typically reserved for people who actually officially work with the president.
Despite not having an official role, the first daughter of the president's first wife is also being authorized to get security clearance.
Trump's security clearance means she can see classified government information.
Ivanka is not serving as a federal employee and is not getting a salary. She is, however, getting a government-issued communications device "to protect government records and any information to which she may have access," according to ABC News.
This news comes after months of concerns over Trump's involvement in her father's presidency.
Without an official role in the White House, it's unclear why she is meeting with foreign ministers, conducting conferences with business leaders and hanging out with Justin Trudeau (well, OK, I totally get that one, take advantage of that opportunity, girl!).
This intense involvement can cause concern if you're worried about things like conflicts of interest.
The Trump sons, Eric and Donald Jr., are running the Trump businesses while their father serves as president. He is not supposed to be talking to them about business or politics, so he can avoid conflicts of interest.
Similarly, Ivanka has her own businesses. So far, that's already caused conflict as Kellyanne Conway kind of broke the law telling people on TV to go buy Ivanka brand products.
Meanwhile, the West Wing is often viewed as a safe space for men doing important man things.
In 1993, Hillary Clinton got an office in the West Wing, becoming the only first lady to do so.
This caused some uproar as many considered it to be too much involvement for a mere lady. The people elected Bill, critics said, not his wife.
Even in 1977, when President Jimmy Carter moved his vice president into a West Wing office, people freaked out and said it was too much because the West Wing is the president's special all-alone space.
"You're going to be criticized whether you stay in the White House and pour tea or do what you want to do. So do what is natural for you and what you want to do," is what Mary Hoyt, former press secretary to Rosalynn Carter, advised Hillary in 1993.
Clinton's former office, for the record, is currently in use by Conway.
But, we must remind ourselves, Ivanka is not actually the First Lady.
I guess we just don't have enough time to be concerned about this given that the president is under FBI investigation for possible involvement with Russians to control the election.
Shucks.
Citations: Ivanka Trump Now Has an Office in the West Wing (Cosmopolitan), Ivanka Trump to receive White House office, security clearance (ABC News), Baltimore Sun, West Wing real estate: Who has proximity to Trump? (CNN)