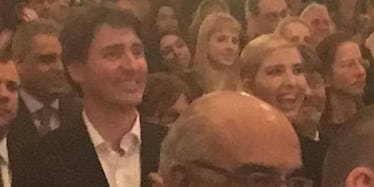 Pics Of Ivanka Hanging With Justin Trudeau Have Everyone Asking Same Question
Facebook
GUYS, prepare yourself for Ivanka Trump and Justin Trudeau: Part Two.
Come on, you really thought there wouldn't be a sequel to this?
That look, boys and girls, is a look of pure, unadulterated lust.
In the month since that iconic picture was taken, I think we can safely assume Ivanka has had the Canadian prime minister on her mind non-stop.
So I'm guessing that when he invited her to a Broadway show as his special guest, she jumped at the chance.
While her husband, Jared Kushner, helped her dad prepare for a speech in Nashville, Ivanka hopped on a plane from Washington DC to NYC to see the sexiest man in politics.
I mean, is anyone even remotely surprised Ivanka would rather go to Broadway with Trudeau than help out her dad?
Broadway show. Justin Trudeau. Not only do those two things rhyme, but it's also the dream date for many a lovelorn soul across the world.
You have to feel for poor Jared -- when the guy whisking your wife to NYC is PM Steal Yo Girl, things aren't looking good.
OK, so OBVIOUSLY Trudeau isn't Ivanka's side piece, as both are happily married. Sorry, everyone.
But that hasn't stopped people from asking an important question.
Well, not that exactly.
But still, people are pretty confused about what exactly is going on here.
The pair sat next to each other to watch "Come From Away," a musical about a Canadian town's response to 9/11.
To the delight of the audience, Trudeau gave an introductory speech before the show started.
But things must have got pretty damn awkward -- after all, the theme of the show is generosity toward foreigners in need, which isn't exactly something Ivanka's dad is known for.
Regardless, she gave the performers a standing ovation at the end -- but maybe she was just in a Trudeau trance.
Citations: Ivanka Trump went to see a play with Justin Trudeau and everyone is making the same joke (Indy100)