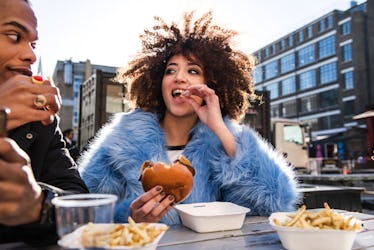 The July 2023 Super Buck Moon Will Affect 3 Signs The Least
Cancer season is a time for wearing your heart on your sleeve, nurturing others, and prioritizing what makes you feel safe and content, which means being practical and realistic has probably been the furthest thing from your mind. As the sun continues through this cardinal water sign, what you need in order to feel emotionally fulfilled is a top priority, no matter how often those needs may fluctuate. Fortunately, the upcoming full moon (slash supermoon, in this instance) will bring some much-needed stabilizing energy into the cosmos. But, while these grounding vibes will snap many signs back into reality, three zodiac signs will hardly be affected by the July 2023 Super Buck Moon.
As this lunation prepares to illuminate the sky in the cardinal earth sign of Capricorn, everyone will feel urged to put their feelings on the back burner in order to accomplish their goals. However, Leo, Gemini, and Aquarius individuals will be notice this energy far less than the other signs, due to the house the full moon will take place in each of their birth charts. This is still a fortunate time for considering future plans and endeavors, but for these three, they'll be less inclined to act on these ambitions. Instead, it's an opportunity to look within.
July's full moon is no ordinary full moon. Taking place annually, this month's full moon is considered to be a supermoon, something that only takes place a few times each year. This means that the moon will appear about 7% larger than usual, making it appear bigger to those on Earth. It's also said to appear brighter, so be sure to snap some photos.
What Is A Buck Moon?
On July 3 at 7:39 a.m. EST, July's annual full moon (also commonly referred to as a Buck Moon) will take place. This lunation not only marks the start of the summer solstice, but it signifies a time for male deer to shed their old horns in order to grow new, stronger ones, which is where the nickname "Buck Moon" comes from.
Here's how Leo, Gemini, and Aquarius individuals will be affected by the full moon on July 3:
Gemini Zodiac Signs (May 21 - June 22)
This month, the full moon will be directing your attention toward your shared resources, boundaries, and private affairs. You may be in the midst of tackling a financial goal, or you may be taking a closer look at the assets you share with another person. This lunation is a fortunate time for getting any money matters in order, and also consider the plans and goals you have for this area of your life. Take a close look at what's in your possession now, Gemini. Are you currently satisfied with what you have?
Leo Zodiac Signs (July 22 - Aug. 21)
On July 3, the full moon in Capricorn will highlight your sixth house of work, routines, and habits, prompting you to consider how your rituals are supporting your desire for long-term success and productivity. This may be a day for you to get busy taking care of obligations that have been piling up, or an opportunity for you to consider new, effective ways of staying on top of your duties and commitments. Either way, it'll definitely be a day for you to roll up your sleeves and get to work, Leo.
Aquarius Zodiac Signs (Jan. 21 - Feb. 20)
On July 3, the full moon in Capricorn sheds light on your subconscious mind and habits. You'll be prompted to consider the ways you can incorporate more structure in this area now, Aquarius, making this a good time for breaking old patterns. You may not be ready to initiate any new endeavors now, and that's OK — today's more about rest and recovery than anything else. Acknowledge any behaviors you've been engaging in that you'd like to release, and then give yourself the time to purge them.