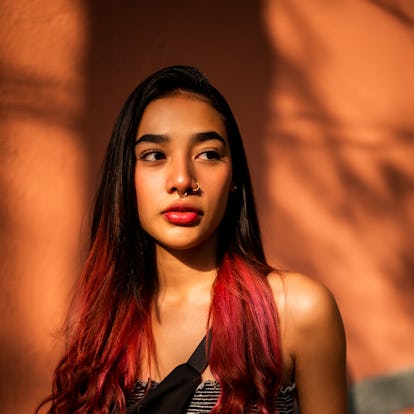 The July 2023 Super Buck Moon's Spiritual Meaning Is Productive
MStudioImages/E+/Getty Images
What an emotional roller coaster it's been. Since the summer solstice (aka Cancer SZN) began, everyone's been at the mercy of their feelings, making decisions based on their ever-changing moods. Although these choices aren't always rooted in logic, they've been fueled by your gut instinct and your desire to self-soothe, something that wasn't much of a thought during Gemini season. However, as the upcoming full moon prepares to take place in Capricorn, you'll be hit with a much-needed reality check. Listening to your intuition is useful in many ways, but in order to reach certain long-term goals, it's important to have certain structures in place — and that's precisely what the spiritual meaning of the July 2023 Super Buck Moon is all about.
Taking place in the cardinal earth sign of Capricorn, this month's full moon is centering the need to get serious about your ambitions and pursuits. Cancer season's allowed for you to lead with your moods, but on this day, you'll be more inclined to push your feelings to the side and tackle what needs to be done. In Capricorn, the moon is considered to be in the sign of her detriment, due to this being a restricted, Saturn-ruled sign. As a result, emotional expression may be more of a challenge, making this a more fortunate time for handling matters that have less to do with feelings, and more to do with logic. This doesn't mean you have to abandon your feels altogether, though — but instead, use this as a time to compartmentalize. Sometimes, in order to get what you want, you're required to exercise some discipline, but it always pays off in the end.
A "supermoon" is simply a full moon that appears much larger to the naked eye, due to its proximity to Earth. This event occurs about three to five times every year, but this one in particular will be one of the largest out of all the supermoons in 2023. It's expected to be about 7% larger than average, which to the naked eye, can seem pretty huge.
What's a Buck Moon?
Buck Moons take place every July, and they're always the first full moon of the summer. The nickname "Buck Moon" comes from male deers, who often tend to shed their old antlers in order to grow new ones around this time. July's full moon is also commonly referred to as a Feather Moulting Moon and a Salmon Moon — other animal-inspired names for this lunation.
When Does 2023's Super Buck Moon Take Place?
On July 3, at 7:39 AM EST, the Super Buck Moon will take place in the sign of Capricorn. As the sign all about reform, tradition, and discipline, this full moon could signify the end of a long-term goal or endeavor you've been working on. It could also point to a task that you've possibly been neglecting that may now require your immediate attention. Since Capricorn is a Saturn-ruled sign, what's revealed today may be something that requires plenty of time and patience. Now isn't the time to rush ahead, but instead, be intentional about what you're working on. You'll be less prone to distractions that stem from your emotional needs now, but this doesn't mean you should be ignoring your needs altogether. Instead, be sure to consider how you feel, but try not to let it override your discernment.
The house in your birth chart where the full moon is taking place can tell you where you're being called to do some intentional work and structuring. This is the area of your life where you prefer organization and self-restraint, and on this day, you'll be called to acknowledge how you can execute more regulation here. As an emotional Cancer season continues, you'll be invited to find balance between your emotional needs and rationality. One doesn't have to cancel out the other — in fact, both are needed in order to truly feel satisfied.