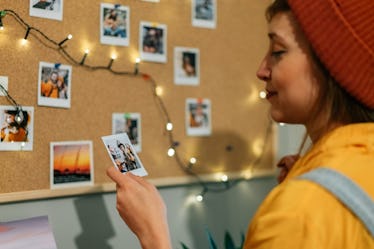 10 Vision Board Ideas From TikTok And Pinterest For Manifesting Your Dream 2022
Get on with your aspirational self.
martin-dm/E+/Getty Images
Vision boards are a great way to visualize and manifest the things you want to happen in the new year. As 2021 comes to a close, it is the perfect time to get some 2022 vision board ideas from TikTok and Pinterest to start creating your own. After all, you want to start the next 365 days with a clear idea of where you're going.
Of course, the vision board ideas you scroll through on TikTok are just vision board examples. The real fun comes from designing your own with your unique goals, hopes, and dreams for the future. If this is the first year you're making a vision board, you may also need a vision board app to help you or a step-by-step guide on what vision board supplies to get. Even Etsy has some vision board kits ($11) you can purchase to make crafting super simple.
However, if you want to do it all on your own, you'll want to follow these 10 examples from TikTok that feature different vision board quotes and techniques to get the mood board of your new year dreams. Heck, you may be so inspired that you'll want to invite your besties over ASAP for a vision board party. Together, you'll make your boards and state your dreams out loud so everyone can get onboard for what's to come.