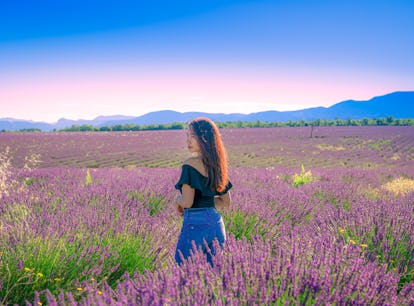 Travel To These 'Gram-Worthy Destinations Inspired By Pantone's Color Of The Year
wilatlak villette/Moment/Getty Images
The Pantone Color of the Year 2022 has officially been announced, and periwinkle fans are excited. Created just for the upcoming year, Pantone's Very Peri shade is the most gorgeous hue of red violet mixed with blue highlights, making it an aesthetic addition to your home decor and your bucket list. It's unlike anything you've seen before, and you may want to get a closer look by visiting some Very Peri places to travel to around the world.
While Very Peri is a brand new shade to the Pantone collection, it's not a new shade to Mother Earth. You can see the very same periwinkle hue in the wisteria plants of Japan and lavender fields in France.
You may even be going through a transformative period of starting to venture out more than you ever have these past few years. That fits in well with the inspiration behind Pantone's Color of the Year, which was meant to encourage "courageous creativity and imaginative expression." One way to creatively express yourself is to plan a vacation with stops at various periwinkle travel destinations that are inspired by Pantone's Color of the Year.
Whether you're planning to reach for your passport in 2022 or you're putting together a dreamy bucket list vacation for sometime in the more distant future, you're looking for wanderlust-worthy destinations to set your sights on. Just make sure to check the most up-to-date travel guidelines from the Centers for Disease Control and Prevention (CDC) and familiarize yourself with any local health guidelines or additional testing that's required.
If this sounds like the adventure you'd like to tackle, here are eight Very Peri places to travel to which boast hues inspired by Pantone's Color of the Year for 2022.
The CDC recommends traveling only after you're fully vaccinated and your vaccine has become fully effective. If you're not fully vaccinated and must travel, check the CDC guidelines before you book. Check your destination's vaccination and testing requirements before you depart.