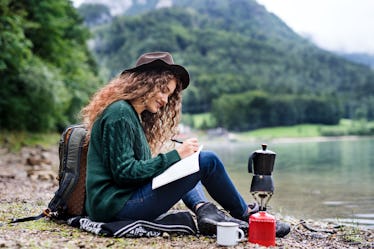 5 Manifestation Methods To Have Your Best 2022 Ever, According To An Expert
Think it, feel it, do it.
Halfpoint Images/Moment/Getty Images
Let's be honest: 2021 was a bit of a doozy, and we could all use a little more magic and abundance in 2022. Instead of leaving it up to fate, Manifesting Ninja's Maria Concha, a prominent manifestation coach and speaker, shared five manifestation methods for making your dream life happen in the new year with Elite Daily. And the best part? All you need is your mind, a journal, and a little bit of determination to attract good vibes in the new year.
If you're new to manifestation, Concha says that it's actually a lot less nebulous than you might think. "Manifestation is the result of what you create with your beliefs," she says. "What you see in your reality now are the seeds (thoughts and emotions) you planted at a certain point in your life. If you pay close attention, you will see the correlation between your thoughts and what you have in your reality."
That means that, in reality, we're manifesting every single day with our thoughts and emotions by default. However, that's also a good thing. If we're in charge of what happens in our lives by our thoughts and feelings, that means we can change our patterns to create a different outcome. Concha says, "Ultimately, you always have the option to choose better thoughts, ones that actually serve you and the outcome you desire."
Ready to turn your dreams into reality? Read through these five manifestation methods and decide which ones you want to try for 2022. It's totally OK to mix and match them. At the end of the day, the methods work best as long as you're consistent in practicing them, not because of which ones you use.
For more tips and tricks on manifesting, follow Maria Concha on Instagram @manifestingninja, or visit her at www.manifestingninja.com.