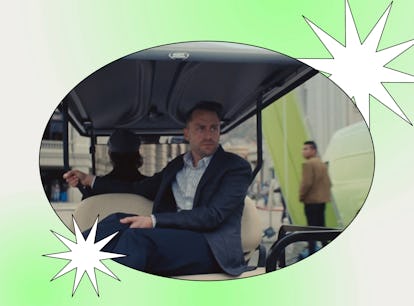 You Can Visit Waystar Studios From Succession IRL For $70
Spot Gilmore Girls and Friends filming locations as well.
HBO/Elite Daily
The sixth episode of Succession Season 4 was full of bites, big shoes, and Burbank as the Roys headed west for Waystar's Investors Day presentation. Before Kendall's Living+ launch announcement, Roman Roy (played by Kieran Culkin) stopped by Waystar Studios to meet with its head, Joy Palmer, for what ended up being a very brief visit. Despite it being cut short, fans were quick to recognize the Waystar Studios filming location — and it's one you can visit too.
Waystar Studios is actually the Warner Bros. Studio IRL, which makes a lot of sense considering HBO is owned by Warner Bros. Discovery. The WB lot has been used for many fan-favorite TV shows like Gilmore Girls and Friends. There's even a Friends Central Perk cafe on the lot where guests can sip on lattes, order an English trifle (minus the meat), and shop for merch. It's all part of the Warner Bros. Studio tour, which now fans of Succession should add to their SoCal bucket list. Just like Roman, you can be escorted around the lot via golf cart if you book a tour, and along the way, you can see the same film sets.
Actually, some eagle-eyed fans spotted the Abbott Elementary set in the background as Roman was being driven to Joy. Does this mean Abbott Elementary is in the Succession cinematic universe, and Quinta Brunson goes to work at Waystar Studios? It's possible. If you're hoping to see the same area on your tour of the Warner Bros. Studios, tell your tour guide you want to see Ashley Blvd and Brownstone St. This is the area of the backlot where most of the Succession filming took place.
What To See At The Warner Bros. Studio Tour Hollywood Experience
The Warner Bros. Studio Tour Hollywood, which is located in Burbank, is $70 per person or $58 if you're a SoCal resident. The tour is about three hours long, and that includes an hour-long guided tour. After that, you'll be on your own to explore the unguided areas of the lot, which includes the Friends cafe plus a Harry Potter and DC interactive experience. The latter has Insta-worthy photo ops, like the cupboard under the stairs and a letter-filled Dursley living room.
Each tour is different as there is always something new filming on the lot, so if you've been before, it's still fun to go again a second time. This time around, you could even make spotting Succession filming locations your priority. Before your tour begins, your guide will likely take a second to ask you which TV shows and movies you love so that they're able to point out areas where those things were filmed. Even if they don't ask, make sure to mention it so that you can see Succession filming locations.
Later in the episode, there is a shot of the 134 freeway after Roman is seen watching the video edit of his dad. This is next to the Warner Bros. Studio, so basically, Burbank needs to go on your list of cities to visit. It may not be as wanderlust-worthy as Norway from Episode 5, but it's exciting nonetheless. You could even stay at a few hotels from Succession. Just remember to pack a "ludicrously capricious" bag so you have everything you need on your journey.