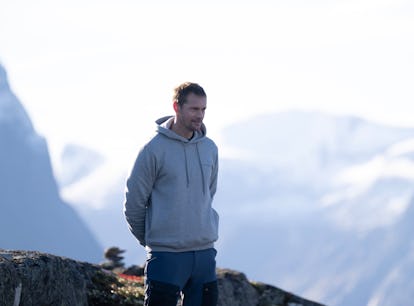 Where Was Succession Filmed In Norway? Plan Your Roy-Inspired Visit
It's time for a "cultural compatibility check."
Graeme Hunter/HBO
Luxury is nothing new on Succession. (When you think a nearly $3,000 bag is unnecessarily big (aka "ludicrously capacious") and nothing more, luxury clearly comes with the territory.) So when the Roys travel to Norway to join GoJo's corporate retreat in the mountains on Season 4, Episode 5, you expect the absolute finest — and, oh, did it deliver. The "cultural compatibility check" allows the Waystar Royco team to vacay and make deals in a wanderlust location. While this isn't the first time the HBO production needed passports to film — there are quite a few hotels you can stay at from Succession around the world — if the Scandinavian peninsula is on your bucket list, Succession's Norway filming locations are absolute musts.
Spoiler alert: This post contains spoilers from Succession Season 4. Last season, Alexander Skarsgård joined Succession as tech billionaire Lukas Matsson, the CEO of GoJo. Everything was set up for Matsson to buy Waystar Royco, but this was all before the death of Logan Roy. Nothing ever seems like a sure thing on the show, so when Matsson sent out invites for the Roys to join him in Norway, they felt the need to oblige. It was reported by Variety back in October that Succession would film in Norway this season, and producer Scott Ferguson revealed that showrunner Jesse Armstrong wanted one episode of the series "to be in [Matsson's] part of the world." Ferguson shared, "Norway had everything we were looking for — in just utterly gorgeous settings," which is why it may also be on your list of places to visit.
While in western Norway, you could splurge and stay at the same hotel that the Roys stay in during their trip. When you're not relaxing at the Juvet Landscape Hotel, enjoy a gondola up the mountain to take in the views where Kendall and Roman confront Matsson or go for a scenic drive along the Atlantic Ocean Road for a TikTok vlog. Whatever you plan to do, here are the seven Succession filming locations in Norway that are great pit stops for fans of the HBO series.