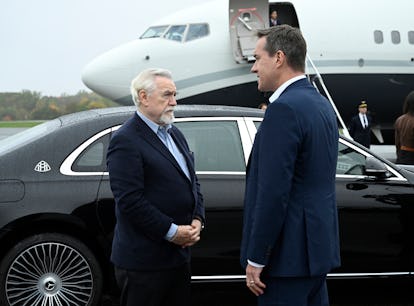 Whoa, The Succession Season 4 Poster Totally Teased That Major Death
It was right in front of our eyes this whole time.
HBO
Spoiler alert: This post contains spoilers from Succession Season 4, Episode 3. The big Succession episode we all knew was coming arrived so much sooner than expected. Many fans assumed the HBO drama would save Logan Roy's death for its series finale since that's what the whole show had always been building towards. But instead, Succession pulled the trigger early, killing off the Waystar Royco head and suddenly putting the throne up for grabs. It was a shocking decision, and even more devious when fans noticed the Succession Season 4 poster had been teasing Logan's death this whole time.
Nobody was expecting the third episode of Succession's final season to be so nuclear. From the teaser, fans simply assumed the episode titled "Connor's Wedding" would revolve enturely around Connor marrying Willa, and Roman having to do his father's dirty work by firing Gerri. Turns out, those only comprised a teeny-tiny percent of the episode. The real drama was Logan passing out in his private plane's bathroom while flying out to Sweden to close his GoJo deal. He died on the flight with his children helplessly listening in on speakerphone, leaving everyone reeling with a totally unsure future.
Even more shocking, the whole twist was foreshadowed a month earlier when HBO released the Season 4 poster.
Do you see it? That little speck in the top right? Yep, eagle-eyed fans were quick to point out that Logan's plane, which would become his place of death, was sneakily featured in the promotional image.
The choice of Logan dying in his plane is also profound for symbolic reasons, by making his final act one of flying away from his children and towards a business deal, something he's excelled at his whole life. If he'd actually gone to Connor's wedding like a good father, he would have died surrounded by his family, actually getting to hear his kids tell him they love him. But instead, he died on a stuffy plane with business associates he hated, only maybe hearing his children's last words to him through an iPhone speaker.
Now, all the power is up for grabs much sooner than expected. See who ends up on top as new episodes of Succession air Sundays at 9 p.m. ET on HBO and streaming on HBO Max.