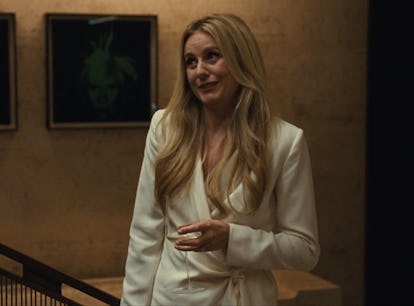 I Need To Know Everything About Where Willa Went After Her Rehearsal Dinner
Was the aquarium supply store actually a drug thing!?
There were a lot of great new settings in the latest episode of Succession, from a "working-class" bar to a karaoke lounge, but the most outrageous journey of Season 4, Episode 2 wasn't shown on-screen. I'm talking about Willa's wild night. The future Mrs. Connor Roy had a total meltdown at her rehearsal dinner, and escaped into the streets of NYC to have a truly bizarre night. But sadly, her pilgrimage from aquarium supply stores to dry cleaners to who-knows-where-else wasn't shown. Thankfully, Succession fans imagined what Willa's post-rehearsal dinner journey may have looked like on Twitter.
Spoiler alert: This post contains spoilers from Succession Season 4, Episode 2. After a frazzled Willa ran out of her rehearsal dinner, clearly overwhelmed by her looming wedding, Connor went full CIA and tracked her phone the whole night. And what a night it was. Connor watched as the little Willa dot on his phone stopped in an aquarium supply store ("Is that a drug thing?" he wondered), then hit up the dry cleaners, before heading to the Williamsburg Bridge (thankfully, not in the East River, as Connor originally feared). But her chaotic night had an anticlimactic end, as she was asleep in her and Connor's bed when her worried fiancé arrived home.
Like Connor, viewers were left to wonder what Willa actually got up to on her strange expedition through Manhattan and Brooklyn. Was the aquarium supply store actually some trendy club? Did she meet up with someone outside the dry cleaners? Or did she just accidentally leave her phone in the Uber that drove her home? More than anything, fans are ravenous for an episode that would follow Willa on that fateful night, and imagining what she could have gotten up to.
Perhaps everyone's favorite playwright will turn her adventurous night into a stage production someday, but until Willa writes her follow-up to Sands, we are just left with our imaginings of how Willa let loose in her last moments of unwedded freedom.