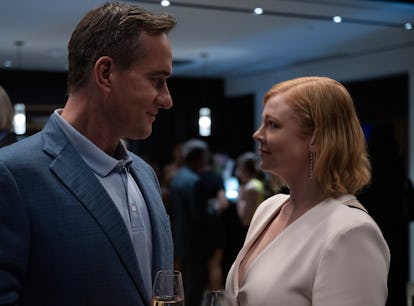 Shiv & Tom Are Biting Their Way Back To Being Succession's Perfect Toxic Couple
Pain is their love language.
HBO
Shiv and Tom are in their Twilight era. The Succession sometime-couple's romance has always been messed up, but in Season 4, they're embracing the seriously twisted elements of their attraction to one another like never before... and it's really working! Their bizarre reunion was perfectly encapsulated in a kinky game, which was equal parts disturbing and hot. These memes about Shiv and Tom's bitey game on Succession Season 4 prove how much fans are rooting for their toxic love story, no matter how weird it gets.
Spoiler alert: This post discusses details from Succession Season 4, Episode 6. The final season of Succession hit Shiv and Tom with a much-needed reset. It's been clear from the start that their marriage was a mess, and it turns out, all they really needed to fix their issues was some bite. Or, rather, some biting. The estranged couple rediscovered their spark at Waystar's investor's meeting. After lobbing a few insults back and forth, Shiv challenged Tom to "bitey," a game she invented in which two people bite each other's arms until the loser gives up. Surprisingly, Tom finally bared his teeth and showed Shiv just how vicious he could be by winning the bite-off. It was feral, it was sadistic, and it was the perfect illustration of why fans root for Tom and Shiv.
The scene blew up on social media, with Succession fans joking about how uncomfortable the rest of the party guests must have felt.
Post-bitey, Shiv and Tom took it to the bedroom, and seemed to finally have a deep understanding of one another for the first time ever. At long last, Tom was able to admit he was with Shiv for the money and status she gave him, and Shiv was able to laugh along with the arrangement, knowing she would never leave her privileged life to be with Tom if given a choice. No, it's not love, but honestly, seeing Shiv and Tom finally address their issues and laugh about them together, fully realizing exactly how they work as a couple at long last, was even more satisfying than some lame "I love you."
With only a few episodes left, find out if Shiv and Tom are truly endgame when new episodes of Succession's final season air Sunday nights at 9 p.m. ET on HBO and HBO Max.