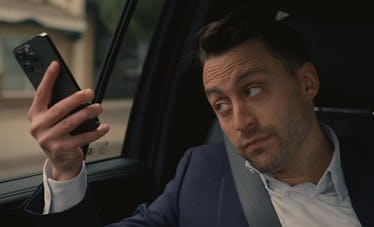 Here's Who Sent Roman That Edited Video Of Logan & Why They Did It
Was it just a joke, or something more malicious?
HBO
Roman Roy's spiral out of control just got so much worse, and it's all because of a seconds-long iPhone video. After absolutely losing it on a Norwegian mountaintop and going on a firing spree at Waystar Royco, Roman's never been in a worse place, and a video of his late father insulting him may have pushed him even further over the edge. But... how did he get that video clip in the first place? Here's who sent Roman the video of Logan, and what the motivation behind it probably was.
Spoiler alert: This post contains spoilers from Succession Season 4, Episode 6. After Kendall's surprise success pitching Living+ to the investors, Roman's self-confidence seemed to take a dive. He had no confidence in his brother/co-CEO's tactics at all, but was completely proven wrong by Kendall's charisma. Just when he thought he couldn't get any lower, Roman opened his phone and press play on a video. Someone had edited his father insulting him and sent it to him. "I want to make what I think is a fairly historic announcement," Logan said in the clip. "I'm convinced that Roman Roy has a micro-d*ck and always gets it wrong."
Roman's reaction is a complicated one. He doesn't throw his phone in anger, or turn it off and get emotional. Instead, he lets the audio replay over and over again as he holds his phone next to his ear. It's a mix of masochism, grief, and longing, as he savors getting to hear Logan's voice again, even if it's cruelly demeaning him.
A closer look at Roman's phone when he first receives the video reveals who sent it to him: Kendall.
Why would Kendall send his brother such a twisted thing? The episode's director Lorene Scafaria suggested to The Hollywood Reporter that it was likely sent as a joke between two (very messed-up) brothers. "[Roman] knows it's funny, at first, because he's funny. But then the pain of it just seeps in," Scafaria said. The interpretation makes sense, given how brutally the Roy siblings "joke" with each other, and Roman's particular penchant for always going for an uncomfortable sexual remark.
But, it's hard to ignore how the action could also be a power play. Kendall is riding a massive high after his win with the investors. He may have sent the video in jest, but it also serves as a reminder of who the true "number one boy" is.
The Roy drama is only getting more heated as new episodes of Succession's final season drop Sundays at 9 p.m. ET on HBO and HBO Max.