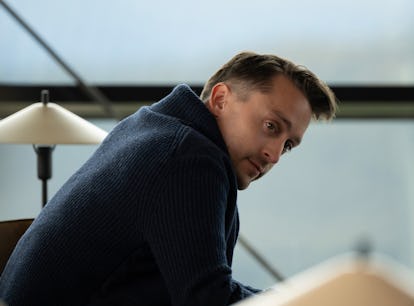 Prepare To Cry At This Wardrobe Detail About Roman In The New Succession Ep
It's a devastating Season 1 callback.
HBO
Spoiler alert: This post discusses details about Succession Season 4, Episode 5.
Logan Roy may be gone, but his presence still looms large over Succession's final season. A closer look at Roman's wardrobe is the ultimate proof of that. A lot happened on the Roy siblings' dramatic trip to Norway, but it was Roman's sweater that had diehard fans freaking out the most. Now, everyone's breaking down the implications of Roman wearing Logan's sweater in Succession Season 4 — was it just an emotional callback to a particular Season 1 scene, or could it be hinting at how the whole show will end?
Episode 5 of Succession's final season finally saw Kendall and Roman in action as the new heads of Waystar Royco: The CEBros, as they've been cringingly dubbed. Their first major task was to fly to Norway and try to close that pesky sale to Lukas Matsson, the last thing their father Logan was working on before he suddenly died. Eagle-eyed fans noticed that Roman brought a piece of his dad with him to help him negotiate the big deal. Throughout the Norway trip, Roman wore a navy sweater that very closely resembled a sweater that Logan has worn several times before.
Shiv even called out the sartorial choice to make it more obvious to viewers. When Roman pleaded with his siblings to try to keep their television network ATN in the Matsson deal, calling it "dad's pride and joy," Shiv offered a knowing retort: "Yeah, well, let's just keep one of his old sweaters. Less racist."
There are multiple reasons this sweater choice is so important. Most immediately, it emphasized how Roman would be the sibling most aligned with Logan's wishes during the Matsson deal. While Kendall wanted to destroy the whole deal and Shiv was content to unload ATN, Roman was the only one trying to cling to his father's prized asset. Fans also pointed out the sweater was an emotional callback to a scene in Season 1, where Roman asked Greg to bring him one of his father's sweaters so he could have "something that smells like him" after Logan's stroke.
Some fans even think the sweater may be an important hint. After all, the whole point of the series is figuring out who's going to fill Logan's shoes. Maybe Roman filling his sweater is a clue that he will be the one to inherit it all in the end.
See what it all means when new episodes of Succession's final season drop Sundays at 9 p.m. ET on HBO and HBO Max.