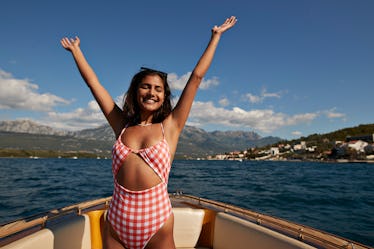 Why May 16, 2023 Will Be A Lucky Day For Every Zodiac Sign
It's an astro event 12 years in the making.
Klaus Vedfelt/DigitalVision/Getty Images
Making plans and communicating effectively haven't been easy on anyone in recent weeks — you can thank Mercury retrograde for that — but it'll get better soon, courtesy of two back-to-back astro moments. Not only is Mercury rx coming to an end, but there's a cosmic event that happens once every 12 years set to begin shortly after, making May 16, 2023 a lucky day for every zodiac sign.
For the first time since 2011, Jupiter — the planet of growth, developments, and optimism — will shift into the fixed earth sign of Taurus, bringing some newfound stability, comfort, and satisfaction into your world. With Jupiter traveling through Aries over the course of the past year, there have been some active, action-packed developments in your life. This transit was responsible for getting some of your new endeavors off the ground, allowing you to quickly get the ball rolling in the area of your life that encourages you to strike while the iron's hot. Now, as Jupiter steps changes course, you'll be prompted to slow down you efforts in order to ensure that what you've built can stand the test of time.
Since Jupiter is moving into this sign a little more than 24 hours after Mercury stations direct in Taurus, it's bringing some opportunities for forward-moving evolution in this area of your chart, where there's been some delays and slowdowns since April 21. This transit will be incredibly fortunate for securing tangible resources like money, food, and livelihood — all the things that ensure your ultimate pleasure and stability. Jupiter will also remain in this Venus-ruled sign for the next 12 months, allowing plenty of time for deliberately developing the security you've been craving.
Here's what every sign can expect on May 2023's luckiest day:
Aries Zodiac Signs (March 21-April 19)
Your money and resources will start to experience gradual developments as Jupiter shifts into Taurus on May 16. Over the last 12 months, the planet of growth and expansion has been traveling through your sign, allowing you to get some personal project and ideas off the ground, but on this day, you'll be shifting your focus over to your assets and possessions. While things may be moving at a slower pace than you'd like, you'll be grateful for the long-term stability this transit brings by next year.
Taurus Zodiac Signs (April 20-May 20)
This month's astrology is definitely on your side, Taurus, as Jupiter shift into your first house on May 16. From now until May 2024, you'll notice a slow, deliberate kind of expansion regarding your desire for comfort and long-term stability. As the patient, slow to act sign of the zodiac, you can sometimes become a little too comfortable, but this transit is broadening your horizons in a way that you can ultimately benefit from. If you've been feeling stagnant, this transit is a moment to broaden your horizons a bit, specifically when it comes to how you identify and express yourself. Sometimes, change is good, and in a year or so, you'll be happy you allowed yourself to try new things.
Gemini Zodiac Signs (May 21-June 21)
On May 16, Jupiter will be shifting into your 12th house of introspection and seclusion, expanding your subconscious mind and behind-the-scenes practices. This transit is highlighting parts of yourself that you may tend to neglect — the desire for longevity, sustainability, and peace — but it promises to be deeply gratifying. While you tend to prefer a little chaos, Jupiter in Taurus is bringing some much-needed consistency into your world, specifically pertaining to how you make use of your alone time. This could be a fortunate time to start a new spiritual practice, Gemini — anything that grounds and stabilizes your energy.
Cancer Zodiac Signs (June 22-July 22)
As Jupiter shifts into the stable sign of Taurus this month, your friendships and networks will begin to experience gradual developments around long-term security and reliability. Over the next year, you can expect to establish a solid community around you, that centers around pleasure, comfort, and satisfaction. It's a good time to collaborate or join forces with a collective — anything that allows you to pair up with like-minded individuals. You're entering your social era, Cancer, so don't be afraid to come out of your shell.
Leo Zodiac Signs (July 23-Aug. 22)
On May 16, Jupiter will shift into your 10th house of career and profession, bringing an opportunity for growth and deliberate developments to your public image. As a fellow fixed sign, you're a big fan of things expanding gradually — and this transit is definitely speaking your language. From now until May 2024, you'll begin to notice evolutions in your vocation, allowing for longevity, pleasure, and creativity. This is a fortunate time for getting a promotion, expanding your impact, or exploring new horizons in your work. Expect to gain more acknowledgement for your efforts now, Leo — you're entering your main character era at work.
Virgo Zodiac Signs (Aug. 23-Sept. 22)
Jupiter's shift into Taurus brings the potential for growth and opportunity to your spiritual pursuits and desire for expanded wisdom. This transit could coincide with the gradual development of a new spiritual practice or study. As someone who prioritizes knowledge, this transit is incredibly fortunate for expanding on a topic or interest that you've been wanting to learn more about. Be sure to sign up for that class or buy that course — your mind will be craving enlightenment.
Libra Zodiac Signs (Sept. 22-Oct. 23)
Your shared resources and assets will be expanding, Libra, as Jupiter shifts into your eighth house on May 16. This is a season of growth in your finances, and an opportunity to develop some long-term stability when it comes to your valuables. You may find yourself saving more money, expanding your home, or merging materials with a significant other — anything that benefits you long-term. It's a fortunate time to set yourself up for the future, so that you don't have to worry about instability later.
Scorpio Zodiac Signs (Oct. 23-Nov. 21)
This month, Jupiter will shift into your seventh house of romantic relationships, bringing growth and opportunity to your romantic relationships. From now until next year, you'll experiencing slow and steady developments in your connections that will bring long-term stability. Now is your time to lean into the comfort that your relationships provide, Scorpio, because they're here to stay.
Sagittarius Zodiac Signs (Nov. 22-Dec. 21)
On May 16, Jupiter (aka your chart ruler) will shift into the stable sign of Taurus, bringing slow and steady developments to your routines, habits, and wellness. As the Jupiter-ruled sign of the zodiac, you're always seeking new ways to evolve, and this transit's allowing you to expand at a gradual, intentional pace. While things may progress a little slower than you're used to, you'll be establishing a newfound sense of comfort and peace in your day to day rituals.
Capricorn Zodiac Signs (Dec. 22-Jan. 19)
Your creative pursuits and passions will experience gradual growth this month, as Jupiter shifts into Taurus. From now until next year, you'll be called to prioritize the things that bring you joy, Capricorn, even if they aren't necessarily "productive." This transit is about prioritizing your pleasure through serene, pleasure-focused activities, so be sure to lean into anything that makes you happy during this time.
Aquarius Zodiac Signs (Jan. 20-Feb. 18)
On May 16, Jupiter will shift into your fourth house of home and family, bringing developments to your habitat and private environment. This transit is allowing new opportunities to unfold in your residence, Aquarius, providing you with opportunities for long-term security in this area. During this transit, you could move into a bigger home, or expand your family — anything that brings growth into this part of your life.
Pisces Zodiac Signs (Feb. 19-March 20)
This month, Jupiter (aka your chart ruler) shifts into Taurus, expanding your current thoughts, ideas, and skills. This is a period of expansion in your academic pursuits or interests, allowing you to increase your understanding of whatever has your attention. It's a time to be receptive to the environment around you, Pisces, because it's bound to teach you a thing or two. Over the next year, you'll be given an opportunity to learn things that will continue to sustain you for an extended period (a new language, trade, or expertise). While it may be gradual, it will definitely stand the test of time.