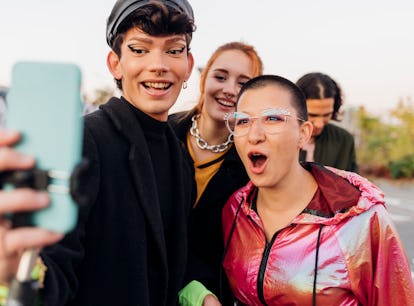 Try TikTok's Viral "In 2022 I Will" Filter For A Celeb-Approved Prediction
I hope I get "become famous."
Westend61/Westend61/Getty Images
The start of the new year is full of hope for the good things to come, and TikTok is ready to predict exactly what you'll be doing in 2022. The "In 2022 I Will" filter is currently trending on the platform with everyone from Charli D'Amelio to Lizzo trying it out. If you're not someone who is constantly glued to their FYP, you may not know how to get the "In 2022 I Will" filter developed by TikToker @baruchgeuze, so let's break it down.
Similar to other TikTok filters, you can find this one in your "Effects" library at the bottom left of your screen when creating a new TikTok video. It'll be under the "Trending" tab with its "In 2022 I Will" icon. Click on that and the screen will prompt you to show your face. Once you do, a text bubble will appear over your head with the prompt "In 2022 I Will..." As soon as you press record, the filter will shuffle through its options and land on its prediction for your future. The filter has everything from "become famous" to "get a dog" or even "party all year."
While getting a puppy or striving hard to go viral on TikTok is your actual 2022 New Year's resolution, you should definitely take whatever you get with a grain of salt. In fact, a lot of the best TikToks featuring the "In 2022 I Will" filter are super LOL-worthy with how wrong they are. So, try the filter out for yourself to see what you get. If you'd like to see more inspo before recording, here are nine "In 2022 I Will" filter TikToks.