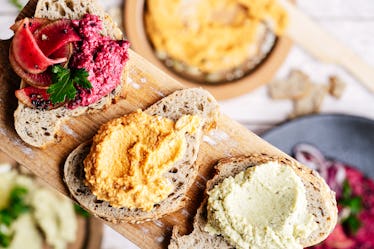 Hummus Board Ideas From TikTok To Dip Into For Game Day
These platters are on another level.
istetiana/Moment/Getty Images
You've heard of charcuterie boards, then you found out about butter boards, and later came peanut butter boards. Now, get ready for the newest trend on foodie TikTok — hummus boards. It seems like a no-brainer, because hummus is usually the centerpiece of a crudité platter, but the creamy, nutty dip is being upgraded in so many new and creative ways. Just like a butter board, it's basically hummus slathered on a serving board, topping with delicious fix-ins, and then served with crunchy bread and crackers. It'll leave you more satisfied than scooping up a pile of butter, because it's loaded with nutritional ingredients like protein-packed chickpeas, fresh veggies, and health fats. Check out these fall hummus board ideas from TikTok to serve up at Friendsgiving or game days.
The beauty of hummus is that it makes for a great canvas to load on tons of different toppings and seasonings. You can stick to classic Mediterranean flavors, go super spicy, or even make a sweet dessert hummus. As opposed to butter boards, hummus boards are dairy-free, so everyone at your party can dip into them and wipe the platter clean. Besides being delicious, hummus boards can look beautiful too, especially if you garnish them with fresh herbs or opt for a version that adds a pop of color, like pumpkin or beet hummus. For inspiration to create your own hummus board for your next dinner or game day party, feast your eyes these 10 hummus board recipes from TikTok.