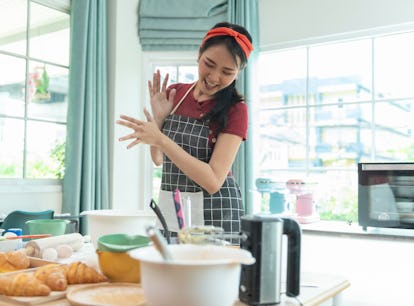 These Insta-Worthy Fall Butter Board Ideas From TikTok Are A Must For Any Party
Pumpkin butter? Yes, please!
Chakrapong Worathat / EyeEm/EyeEm/Getty Images
Butter boards have really taken over on TikTok. The "new charcuterie board" involves spreading softened butter onto a cheese board or tray before topping with different seasonings, veggies, and fruits. While a salted butter board with just some jam and lemon zest is a great place to start, there are butter board ideas for fall from TikTok that'll spice up your autumn festivities.
Fall butter boards utilize the flavors of the season like pumpkin, cinnamon, and apples. While many of these butter board ideas from TikTok are on the sweeter side, there are also ways to make your boards savory if that's what you're craving instead. There are also plenty of opportunities and events where you would want to make butter boards this fall. Try a spooktacular and skeleton-shaped version for Halloween or put together a large butter board to share as an appetizer at your friendsgiving celebration.
Even if you're just having a night at home with your besties to watch some fall films like You've Got Mail or begin your yearly tradition of re-watching Gilmore Girls together, serve up some fall butter boards with apple cider or pumpkin spice lattes. For some inspiration of what to put on your grocery list, here are eight butter board ideas for the fall.