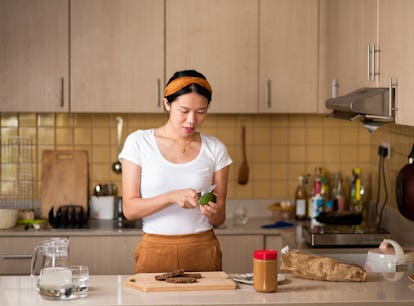 TikTok's Peanut Butter Boards Are A Sweet Take On The Viral Trend
You *butter* believe I'm trying these.
Stefan Tomic/E+/Getty Images
By now, you've likely seen butter boards or even cream cheese boards are trending on TikTok. The "new charcuterie" board involves spreading butter or cream cheese on a board or tray and topping with different sweet or savory ingredients depending on your taste. Everyone seems to have their own take on the viral dish, and now TikTok's peanut butter boards have taken over the FYP as well.
You read that right — peanut butter boards. It was only a matter of time before TikTokers thought to spread the creamy deliciousness on their boards as well for a tasty treat. Butter boards have versatility with many topping options, and peanut butter also allows you to get totally creative with different themes like an OG peanut butter and jelly board or fluffernutter board that will take you back. There are also peanut butter boards that are safe for your pup at home to try, so really everyone in your fam can enjoy.
If you're wondering how to make a peanut butter board, all you really need to do is spread some peanut butter, whether it's creamy, crunchy, or even a nut alternative like almond butter, onto your board. That's your base and the toppings you sprinkle on are where you get to have fun and be creative. For some inspiration, look at these 12 peanut butter board ideas on TikTok to see which direction you'd like to take your snack in.