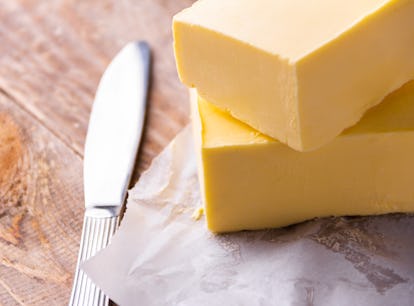 Vegans, Here Are 12 Viral Butter Board Ideas You Need To Try
You *butter* believe I'm trying the butternut squash board.
HUIZENG HU/Moment/Getty Images
Butter boards have really taken over just in time for the cozy season. Nothing sounds better — or, shall I say butter — than snacking on a fall-themed butter board as you watch a Halloween movie in October. That is, unless you're vegan. Luckily, there are vegan butter board ideas on TikTok for anyone who is plant-based to jump on this viral trend as well.
Putting together a vegan butter board is actually quite simple. All you need to do is get your favorite vegan butter from the store and top off your spread with veggies and fruit. You pretty much have the butter board world at your fingertips, which can be great but also intimidating if you're not great at making decisions. With so many options, you might not know where to start, so here are 12 vegan butter boards recipes to try at home.
Make a fall-themed vegan butter board to snack on as you watch Hocus Pocus 2 on Disney+ or serve a savory vegan butter board as the appetizer to your autumn dinner party with friends. You could even make a vegan butter board just for yourself to enjoy whenever. You really don't need a special occasion to make a butter board just as long as you have the ingredients and an appetite for delicious butter on your fave bread.