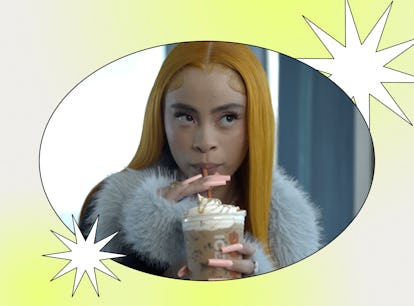 I Tried Dunkin's Ice Spice Munchkins Drink & It's Low-Key Genius
Dunkin'/Elite Daily
Not only did Ice Spice take home the Moonman at the 2023 MTV Video Music Awards for best new artist, but the "Deli" rapper also just collabed with Dunkin' for her own pumpkin spice drink for the fall. The Ice Spice Munchkins Drink is a blend of Dunkin's Frozen Coffee with their Pumpkin Munchkins, making a sweet seasonal sip that could rival your go-to pumpkin spice latte. I tried Dunkin's Ice Spice Munchkins Drink the day it launched, and I was surprised at how much flavor this doughnut and coffee combo has.
This is actually the first time ever that Dunkin' has combined their doughnuts into one of their coffee drinks, which was surprising to me. I'm someone who still, on occasion, will call it Dunkin' Donuts rather than their rebranded name of Dunkin' because their doughnuts are my favorite thing on the menu. (Sorry, Charli D'Amelio.) So in recent years, it's been kind of sad seeing what they were always known for take a step back to let their coffee shine. Thankfully, this Ice Spice collab is putting the doughnut (or at least, their Munchkins) back in the spotlight — and I'm all here for it.
The Ice Spice Munchkins Drink is one of those no-brainer collabs. Even the commercial with Ice Spice and Ben Affleck promoting the new beverage pokes fun at how easily this drink came together. Since it's Ice Spice, you have to have an iced drink. And in the commercial, the 23-year-old rapper shares, "My fans are the munchkin." So, there you have it — the Ice Spice Munchkins Drink. If you're in search of a new fall go-to, here's exactly what the Ice Spice Munchkins Drink tastes like.
Dunkin's Ice Spice Munchkins Drink Review
The Ice Spice Dunkin' drink just dropped on Sept. 13, but rave reviews are already popping up on my TikTok FYP, so I was eager to try it. However, even though I'm from the East Coast, I can't say I'm as big of a fan of Dunkin's coffee as Affleck and D'Amelio. I do love their Munchkins, though. I love the bite-sized versions of my favorite doughnuts, so this Ice Spice drink really won me over with how much it tastes like an actually Pumpkin Munchkin. You can even taste the blended doughnuts with each sip, which may not be the best for people who don't like texture in their drinks. However, I thought it was fun like eating a birthday cake milkshake with actual pieces of the cake mixed in. It's the perfect blend of coffee and doughnuts, so it's great for anyone with a morning commute and on-the-go lifestyle.
Something else about the Ice Spice Munchkins Drink that I love is that it's frozen. I live in Los Angeles, and as much as I would love to be sipping a warm PSL in my cozy cardigan, it's just too hot right now. This is the ultimate fall transition drink as you're saying goodbye to summer, but you also want to get yourself in the autumn mood. The $6 sip is available now for a limited time at Dunkin' stores nationwide.
However, if you're not a fan of sweet Dunkin' coffee drinks, you might want to avoid this one. It's like you're drinking a frozen doughnut, so it's going to be too much if you lack a sweet tooth. Personally, though, I think the bitter coffee kind of cuts through the Pumpkin Munchkin a bit to make it less sweet than eating an actual doughnut.
Overall, this Dunkin's drink has solidified in my mind that Ice Spice is the current queen of collabs. Between her feature on the "Karma" remix with Taylor Swift, her "Barbie World" track with Nicki Minaj, and now this Dunkin' pumpkin drink, Ice Spice truly is a baddie and a 10.