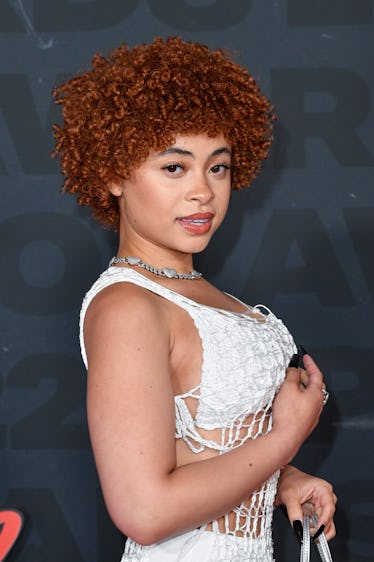 Ice Spice Is The Gen Z Rapper Twitter Can't Stop Talking About
Her debut EP, Like..?, is full of bops.
Aaron J. Thornton/WireImage/Getty Images
When Ice Spice charismatically rapped, "How can I lose if I'm already chose?" on her viral single "Bikini Bottom," it's clear she was referring to her rising fame. Her fans have already chosen her as the new It Girl in rap, simply because she continues to prove she's no one-hit wonder. Her new EP, Like..?, which released on Jan. 20, is the latest example of her staying power — and Twitter can't get enough.
Like..? is an infectious follow-up to her viral singles "Munch (Feelin' U)," "In Ha Mood," and the aforementioned "Bikini Bottom," which are all featured on the EP. She also added three new songs — "Actin' A Smoochie," "Princess Diana," and "Gangsta Boo" — on the record, and they each offer a catchy vibe.
Ice Spice's unforgettable factor lies in the fact that she doesn't take herself too seriously. Though she largely raps over gritty, New York-styled drill beats, she's not using those arrangements to deliver harsh lyrics or complex tongue-twisters. She's nonchalantly spewing quotable hooks about how she's that girl. As a cherry topper, she ends those confident flows with the word "like," hence the title of the EP.
There's just something so catchy about the energy she brings to a track, and that alone makes it hard to stay still when listening to this project. That enthusiasm truly shines on her second track "Princess Diana," which Twitter seems to understandably be obsessed with. On the pulsing drill number, Ice Spice plays on the TikTok meme comparing her to the late royal.
"Nowadays I be duckin' them cameras / And they hype that I'm up on them banners / Callin' my phone, but they know I don't answer / In the hood, I'm like Princess Diana," she raps, her ad-libs adding extra hilarity to how silly the meme is.
Clearly, the Bronx rapper is a talent that should be watched this year. Twitter already has all eyes on her, and these reactions to Like..? are proof of it.
In other words, Ice Spice is the moment.
Not to be dramatic, but I can visualize someone adding "In the hood, I'm like Princess Diana" in their graduation speech.
Honestly, TikTok is such a comedic yet unserious space for creating this Ice Spice-meets-Princess Diana meme.
"Actin' A Smoochie" is also a bop. Over a unique, wavy beat, Ice Spice raps about how she isn't in the mood to fall in love, especially if the person she's involved with isn't treating her right.
These "scriptures" are present on "Actin' A Smoochie," which blends in perfectly with the track's theme.
Ice Spice's Like..? is now streaming.